Turning 90
Over the weekend we were invited to a 90th birthday party for the mother of a good friend or ours. She requested "no gifts". Of course, I could not go without a card! I used the Number of Years stamp set and coordinating dies, Large Numbers, to create her special card. Did you catch that Number of Years was on the Online Extravaganza sale yesterday?
I started with a piece of Powder Pink Designer Series Paper from the Fresh Florals DSP stack and paired it up with some Fresh Fig card stock. The big "90" was cut from Dazzling Diamonds Glimmer Paper because I think you should have some sparkle and shine at 90! A couple of label dies were cut using the Lots of Labels Framelits and layered up to showcase the numbers. The die cut from Flourish Thinlits was added for some fun and then, using Fresh Fig ink, the stamping was done with stamps from Number of Years. It was quite the 90th birthday party and included a Mariachi Band! Fun memories were made!
Inside the card is another die cut from the Flourish Thinlits and a sentiment from Special Celebrations. This certainly was a special celebration!
Have a wonderful day! I'm off to run those errands that didn't get done yesterday. Hope I'll see you back here tomorrow. - Dawn
If you missed yesterday's stamp sale not to worry there are deals going on at Stampin' Up! all week long. Click below to get the scoop!
Oh, What Fun
I started this post on Thursday and none of my pictures would upload to my computer...they finally all came over on Friday night! Just like other things It's hard to live with computers and it would be harder without them now! Anyway, I got Lucy back to mother Wednesday afternoon and have been on the "go" since then. This morning is Cards & Coffee and then afterwards I need to go to the grocery store. But before all that I want to share this card with you before something else happens.
It's really a simple card and I used some of my favorite colors to make it: Real Red, Pool Party and Whisper White. I'm sad to say this was my first use of the Winter Wonder Embossing Folder and I have to admit I almost missed this in the Holiday Catalog. It's gorgeous and we have some fun things to use with it.  In fact, we'll be using it for Cards & Coffee this morning and I'll share that this week too. On this card I actually used the debossed side because after embossing the Pool Party Panel I flipped it over and decided I like the back better. You can see all I did was add it to a piece of Whisper White backing, tied some of the Read Red 1/8" Solid Ribbon around it and added the sentiment from Oh, What Fun stamp set to it and then I was done, or so I thought. I didn't mention the pearls because those came later! After looking at this card I thought it needed a little something else and pearls were the perfect thing!
Inside the card I added a few snowflakes from Colorful Seasons to the sentiment from Smitten Mittens...
More exciting news from Stampin' Up!...it's time for the Online Extravaganza! To start off the week of sales there are a whole lot of 20% off stamp sets, including Oh, What Fun that I used on today's card! Click the link below to check them all out! Remember the stamp sets listed will only be sale until midnight tonight!
Click on the image below for the flyer listing, in addition to the stamp sets for today, what's on sale from Nov. 21st - 26th.
Look for another one day sale on Nov. 27th! I'll keep you posted! - Dawn 
Let it Snow
I love the tag I used on today's card from the Merry Little Labels stamp set. I think it's my favorite one in the set, for now anyway!
This is a quick and easy layout for a card and just about anything can go in the middle. I chose the Old Olive and Black check Designer Series Paper from the Merry Little Christmas DSP today as I don't think I'd used any of it yet! What was I thinking, or not thinking, it's so pretty. I tried an Old Olive card base to begin with but the DSP didn't really showcase well on that so I went with Basic Black and I think it looks really nice on it.  A strip of Old Olive card stock in the center of the card is flanked on either side but a scallop edge in Basic Black. The trim for the edge was created the Decorative Border Punch. Naturally, right where it needed to go is part of the black DSP and it doesn't show up real well in the picture but looks great up close and personal! I just had to heat emboss the tag with White Stampin' Emboss Powder on the black card stock tag. The coordinating Everyday Label punch made it a snap to punch out. I pulled the wire from the edges of the 7/8" Striped Black and White ribbon before trimming the ends into a banner. Some Fast Fuse really does a great job holding it to the card and Stampin' Dimensionals hold the tag right over it! This is a simple layout and I think I'll be using it again!
Inside the card I found a good sentiment to add from Snowflake Sentiment in black ink. The little deer from Carols of Christmas was stamped in Old Olive ink along the bottom of the card.
I'm returning Lucy to her family today and we've had way too much fun including some crafting yesterday.
This is what we made...a garland for her to hang on her bed...
Now I have a fantastic new Stampin' Up! product to tell you about the Stamparatus.
I haven't seen it in person but looks like an amazing product and one that we'll all have to have. I'll link to a demonstration video at the end so you can see it in action. Here is "must know" information about it.
Why do YOU need one? You'll fall in love with stamping all over again when you learn everything you can do with it!
Make multiples with ease

Consistently stamp crisp, clean images

If you want a darker impression, apply more ink and restamp—no need to start over

Make fewer mistakes, saving time and money

Easily create 2-step, 3-step, and 4-step stamped images using reversible plates

Develop new and specialized stamping techniques with adjustable stamping plates and precision placement

Compatible with Stampin' Up!'s red rubber and photopolymer stamp

Foam mat to use with photopolymer stamps

Rulers and gridlines for quick measuring

2 open sides so you can stamp on larger paper

2 reversible plates: a total of 4 surfaces to work with

2 magnets to hold the paper in plac

Magnet storage areas
There's a reservation period for this product that starts tomorrow, Thursday, November 16th at 2:00 p.m. (MT). This is a link to a Q&A sheet for customers. Then click here for instructions for ordering.
Watch this video, check out the links above and get ready to reserve your Stamparatus. If you don't reserve this month there will be two more pre-order periods too: Dec. 5-30 for delivery approximately March 19 and again from Jan. 15-30 with an approximate delivery of April 15th. Get excited, I am!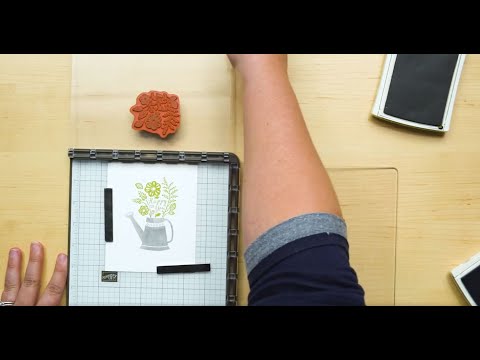 NOEL
I'm trying my best to get my Christmas cards mostly finished up before the end of the month so I made another one to share today.
Sheet Music background stamp made for a beautiful gold embossed background on Night of Navy card stock cut to 4" x 5 1/4". N, E & L and the star from Star of Light were all cut from that panel. The star was then cut again from Gold Glimmer paper. Before cutting anything from the panel I had applied some Adhesive Sheet to the back of it so everything was ready to stick down. Three more of each letter were cut from solid Night of Navy card stock, also backed with Adhesive Sheet. Then they were layered together and placed back into their spaces in the embossed background panel that was adhered to a Night of Navy card base. Using that Adhesive Sheet made all that layering so easy. The Glimmer star was simply fit right into the empty space left for it, no layering on this one. Wanting a touch more gold I used the gold Washi Tape from Season of Cheer Washi Tape just like I did yesterday putting it down both sides of the card.
Inside the card I found a sentiment in Star of Light to use and some little stars to add along with it.
I did use Lucy's nap time yesterday to make this card and hopefully, I can do the same today. We also got some cookies made and took some to my mother yesterday afternoon. She always loves to see the great-grandchildren when they come. I'm not sure what I can squeeze in today but we'll see! I hope your day is happy! - Dawn
Here's a picture of my little cookie baker...
Boughs of Holly
Every winter I keep a watch on our holly bushes hoping for some red berries and each year I'm disappointed. Some years I think the birds eat the berries but this year I think a late freeze in the spring zapped the berry buds. Thankfully, the Good Tidings stamp set has some holly leaves on which you can stamp bright red berries. Today I used the holly stamps from Good Tidings to make some background paper to show off the big sentiment also in Good Tidings.
These holly leaves are pretty real looking, aren't they? The photopolymer stamps in Good Tidings make it easy to layer Wild Wasabi and then Garden Green ink for the leaves and Read Red and Cherry Cobbler for the berries. After filling the background with the holly I had just the right place to put the beautiful sentiment after embossing it in gold on the Garden Green card stock. Using glue dots the Gold Mini Sequins were added to the back of the Cherry Cobbler Scalloped circle. Before adding the  sentiment to the card one last thing was missing, some gold for the edge of the background layer. The first thing I thought about doing was embossing the edge of the stamped layer with gold embossing powder but then I remembered the gold Washi Tape in the Season of Cheer Washi Tape. It worked like a charm and was so easy to add right along the edge of the stamped panel. Now the sentiment could be added with Stampin' Dimensionals and the card was finished. I then went on to make two more cards just like it!
Inside the card I found a sentiment in Season Like Christmas that worked perfectly and added a couple more boughs of holly on either side of the sentiment.
We went to one of our sons over the weekend. We watched one of our grandsons play in a football (peewee league) game on Saturday and chilled out with fires in the fireplace and football games on TV. It was very relaxing! When we left there we headed to our daughter's house, about 30 minutes away, and picked up our granddaughter, Lucy, and brought her home with us to spend a few days with us this week. She keeps you on your toes. Hopefully, I can get a card made during her nap time in the afternoon! Otherwise, we'll be baking cookies and making peanut butter play dough! Have a marvelous Monday! - Dawn