Studio Stamps in the Mail is a way for you to stamp with me from home. There is NO monthly obligation and this is not a club.
Today is the final day to order the February edition of Studio Stamps in the Mail. You won't want to miss the Magical Day Bundle (stamp set and coordinating framelits) that will include a package of pearls and FREE pre-cuts supplies to make 8 cards. I also include a video and PDF tutorial making it easy for you to stamp right along with me from home. Everything is sent Priority Mail right to your home. I've got a 3 minute introduction video to show you the cards and products included.  Click on the image below to navigate to the SSITM page. Ordering ends on today – Saturday, February 17th at 11:59PM EST.
This 3-minute introduction video will show you the products and the cards included. You will need some basic stamping supplies so be sure to scroll down to read about them. You can find FAQ's, customer testimonies, and upcoming SSITM editions listed near the bottom of this post.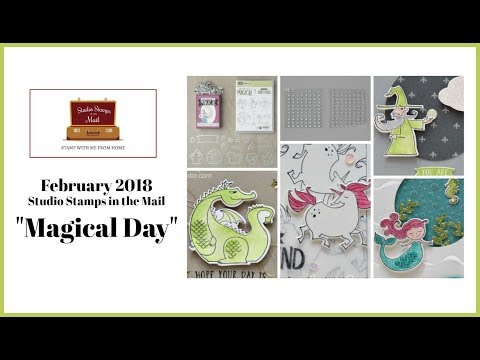 This class in the mail includes:
Magical Day Bundle – 12 piece clear mount stamp set and 16 piece coordinating framelits. Click HERE to see this stamp set. Substitutions allowed, 45.75 value – contact me HERE)
Pearls Basic Jewels – 140 pieces. Click HERE to see the pearls.
FREE Sale-A-Bration product ($50 purchase level that must fit in the Priority Mail packaging – the Designer Papers & the Mixed Medallions Card Kit will not fit.) Click HERE to view the Sale-A-Bration selections. After you've made your payment, click on the orange circle image below to tell me which Sale-A-Bration selection you would like.
FREE Pre-cut materials to make 8 cards; cardstock, designer paper (patterns may vary), embellishments and envelopes are all included.
FREE exclusive class video link will be emailed to your PayPal email address. View the video as often or whenever you'd like.  I will walk you through the entire process of making each card. No prior stamping experience required.
FREE exclusive PDF tutorial will be emailed to your PayPal email address.  The tutorial includes step-by-step instructions for each card with numerous pictures.  Some people prefer written instructions so I've got you covered!  Want just the PDF tutorial? Click HERE.
FREE exclusive Live with Lisa event that includes demonstrations, bundles of tutorials and product Prize Patrol – details HERE!
Priority Mail is included and everything comes in one package sent right to your home.
$69.00
You will need the following items, not included in this SSITM, to complete your cards.  
Clear blocks
Adhesive
Blender Pen #102845 – Click HERE to see this product
Basic Black Archival Ink Pad #140931- Click HERE to see this product
Big Shot #143263 or another die cutting machine that will accommodate framelit dies – Click HERE to see this product
Dimensionals #104430 – Click HERE to see this product
Glue Dots #103683 – Click HERE to see this product
You will need the following ink pads to replicate the cards identically. You can substitute these with closely related colors you already own.
If you don't have these items you can:
Contact me HERE to add them to your SSITM order – This option saves you additional shipping costs! Please note that the product(s) you select must fit in a flat rate Priority Mail padded envelope along with your SSITM supplies.
Purchase them in my online store HERE.
---
Q:  What is Studio Stamps in the Mail (SSITM)? 
A: SSITM is perfect for those that can't attend a class due to distance or scheduling.  This is not a club and there is no monthly commitment! You will receive the featured product as indiacated and pre-cut supplies to create 8 cards; 2 each of 4 different designs.  I also include envelopes, embossed images, pre-punched pieces that are not part of the product bundle and embellishments – all neatly organized.  Step by step instructions, a video link and pictures are sent to the address on your PayPal account, via email, once payment has been received.   You will need your own clear blocks and basic stamping supplies.  Details of what you need are listed above.
This program is only available in the United States. 
Q: What if I don't have one of the "what you will need" products?
A: No problem!  Adapting projects to your current inventory is easier than you think.  Often times you will have a supply closely related to what I've used.  You may place an order for the identical products  through my online store. When you place an order in my online store you qualify for my REWARDS program, too.
Q: How much do Studio Stamps in the Mail cost?
A: The price will vary each month based upon that month's featured stamp set/bundle.
Q: When can I expect to receive my stamps and supplies?
A: The entire package will be sent either Priority Mail.  Mailing date is listed above.
Q: What if I already the products in this month's SSITM?   
A: No problem! You can substitute them for other product(s). Please keep in mind that products need to fit in a Priority Mail flat rate envelope. Email me here.  If you fail to provide your choice of substitutions by the deadline, your order will be placed as noted. You can also add products to your SSITM and save on shipping. Just contact me HEREand let me know.
Please note: SSITM do not qualify for Frequent Buyer points or VIP gifts. "Live with Lisa" events ARE included.  
---
"SSITM is 

the

 BEST! I have a ton of 

stamps

 and supplies yet I find it difficult to sit down long enough to make projects with my own supplies and I always want the newest products. 

The

 cards and projects are beautiful and the cards I've given have  gotten rave reviews. Lisa provides the supplies including the stamps, paper, ribbon, and of course, the bling! You get a new stamp set, and most times, a coordinating accessory each month. It's a great way to get new products and supplies AND instructions for beautiful projects. SSITM is THEE way to make cards/projects affordably and quickly." – Marcie D., Florida
 "Your SSITM editions are wonderful! The contents are thorough, creative, informative and gracious!  The quality of the kit is great, everything is cut evenly and correctly so there is no guesswork. The PDF tutorials give fantastic directions for those of us that love to read along before doing the actual project. An invaluable tool. The video included is super… easy to listen to, to follow along and it gives many great tips along the way. They are a great help if there are any questions about putting the card together correctly.  Lisa MORE than covers all aspects of the card making process which allows the cards to come together seamlessly!  I have gotten many kits through the years and I enjoy Lisa's Studio Stamps in the Mail so much!"   – Kay B., North Carolina
"I seriously love Studio Stamps in the Mail.  I can not wait month to month for the next one!  They are easy to accomplish and the quality of the kit is top notch.  I am a person who does not like to cut paper – and hooray – all the paper is pre-cut and ready to use.  The video and PDF tutorial are remarkable. It's very easy to follow and you can start and stop at any point.  If you are a beginner this is a great way to get started!" – Helen B, Florida
"I've purchased two Studio Stamps in the Mail so far and plan on purchasing more in 2018. I watched the videos and did not have to watch it again to make the cards because the PDF tutorials were so thorough and complete.  I already had 1 of the items for one of the SSITM editions and it was easy to substitute another item for my purchase. Lisa is quick to respond and so helpful." – Cathy Z., Pennsylvania
"I have several of the monthly Studio Stamps in the Mail and am amazed at her attention to detail. Even the glitter is put in a Ziplock bag! One time I lost the video and just emailed her and she resent it. Her videos are great and I can pause them anytime I want to work on my card and then restart the video which allows me to work at my own pace. I can't say enough about her talent and the time she puts into these monthly editions." – Leanna C., Washington
"I have received 2 Studio Stamps in the Mail editions and loved them both. The PDF tutorials are well written and easy to follow. It is easy to see Lisa is detail oriented.  All the items needed for cards were included! I also appreciate her flexibility in the order. If you already have, or personally do not like an item, Lisa will arrange a substitution of similar value." – Pamela J., Florida
---
March -Occasions Catalog stamp Bundle "Petal Palette" (stamp set & framelits) PLUS your choice for a free $50 level Sale-A-Bration product!
April – Occasions Catalog stamp set "Picture Perfect"
May – Occasions Catalog Bundle "Truly Tailored" stamp set & coordinating punch)
The post Final Day – Studio Stamps in the Mail appeared first on Lisa's Stamp Studio.