In an attempt to set a world's record for the largest number of David Bowie look-alikes, band "Bowie Vision" called one-and-all to don Bowie wigs and Bowie costumes and meetup at the Showbox Theater in Seattle. With about 175 showing up at the concert, they fell a bit short of the 250 needed to set a Guiness Book of World Record, they did have a beautiful gathering of Bowies and were able to put on a great show.
This fantastical home was recently listed for rent in Culver City, California. It's so beautifully awesome and intact.
Here's the entire ad:
Enchanting 2 Bedroom Cottage in "The Hobbit's House"

Property Address
3819 Dunn Drive | Culver City, CA 90232

Located in prime & hip Downtown Culver City, Here is a rare opportunity to live inside a Storybook cottage straight out of a Fairytale. Known as "The Hobbit's House", this unique property was created by Disney artist Joseph Lawrence who spent 24 years creating between 1946 and 1970. This cottage features rustic stone hewn walls, leaded glass windows, and magical looking ponds filled with fish and a family of turtles. The main house features 2 bedrooms and 1 bath, plus a huge bonus room that could be an office or den. The living room that is situated around an original stone fireplace features stained glass windows, nautical details and a bar that is perfect for entertaining. The quaint kitchen comes with a mini-fridge that is built in. 2 bedrooms sit behind a wooden plank door and offer great sunlight, and a view of the fountain and pond at the front of the house. The sparkling green tiled bathroom features a tub/shower combo with a large vanity and great custom built ins. The house also features a 3rd bonus room off of the kitchen that could easily be used as a extra bedroom or entertaining space. This is a truly enchanting cottage that is located just moments from The Kirk Douglas Theater, Trader Joes, fantastic restaurants in Downtown Culver City, and The Kenneth Hahn State Recreation Center and easily accessible to the 10 and 405 freeways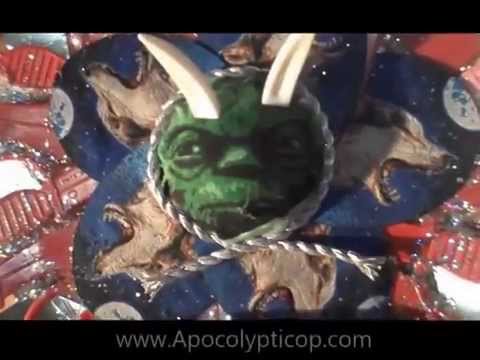 I was recently invited for a tour of Whoretense FacePillow's new home in South Seattle, and boy was that a treat! A visual delight of whimsical creations and folk art throughout this comfortable home. Below is a short video from my visit!
And now, a house tour in haiku by Whoretense herself:
beneath airplane noise
a view of oaks and cypress
vinyl window search
manufactured shed
beside manufactured house
short sales aren't pretty
mechanic's dream shop
house a neglected ruin
mechanics hate irony
grandma's old curtains
missing from new white windows
vinyl looks like wood
old wooden windows
freshly painted on long days
young again for now
old wooden windows
in houses with new carpet
one time were saplings
I was showing homes for sale in Seattle and we went to see a home that was repossessed by the bank, located in a gentrifying neighborhood just South of downtown Seattle. I forgot to take a picture of the exterior, but there was nothing remarkable about it…. but when I went inside, boy was I surprised!
Someone with a fanciful sense of imagination went to town with paint and a brush. It was actually quite charming!
There was no indication who lived there or if they had children, but if they did, I imagine they thought they lived in a fairly land!
My buyers didn't want the house, but it did end up selling. I wonder if the current owners kept the paint colors?
I think my favorite thing was the floor that appeared to have been sprinkled with flow in the dark stars. I would have loved to see it at night!
I took a short video just so you could see it in all of its glory!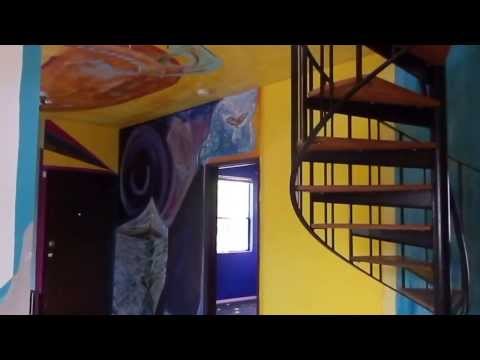 Is there something about "square" entertainment legends that makes them commission really cool, curvy houses? Two examples (both on the market in recent months) might suggest so.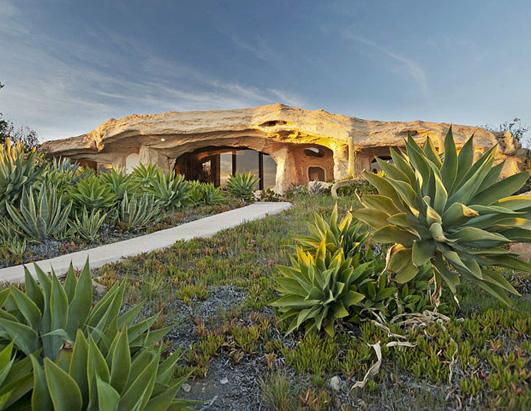 Exhibit A: the Malibu, CA hillside estate of American Bandstand host and "World's Oldest Teenager" Dick Clark. Media articles about it invariably compare it to the house on another long-running ABC TV series, The Flintstones.  Originally listed last year at $3.5 million, it's now been reduced for quick sale to $3.25 mil.
Exhibit B: the Palm Springs, CA desert mansion of comedy legend Bob Hope. Designed in 1973 by acclaimed architect John Lautner, its vast copper roof was intended to resemble a volcano. There's a giant boulder in the middle, and a putting green and al fresco dining area outside. It can all be yours for a mere $50 million.
More Recent Articles