Homemade Chocolate Sauce
This Valentine's Day, serve your loved ones a dessert from your heart to theirs!
Brandi at thevegan8.com has come up with a chocolate sauce that's easy to make and oh so good.
She also offers ideas of how to use the sauce (over fruit, muffins, brownies, and so on).  I've served it over banana bread, and also over "ice cream" made by processing frozen fruit through the Yonana machine. Both were delicious!
Plus you probably have all the ingredients on hand. This is one of those decadent treats to be enjoyed fully (but sparingly) – as Proverbs 25:16(b) reminds us – eat too much chocolate and you'll make yourself sick. (MSG) 
(PS: February is Heart Health month. A whole food, plant-based, no-added-oil diet not only prevents heart disease, it's the only diet capable of unblocking arteries and reversing even advanced stages of the disease. As Dr. Esselstyn says: heart disease is a toothless paper tiger that need never exist, and if it does exist, it need never progress. That's great news – it means we have more control over our #1 killer than we may have ever imagined!)
 Happy Valentines Day! 
Oil-Free Pumpkin Bread (REALLY good)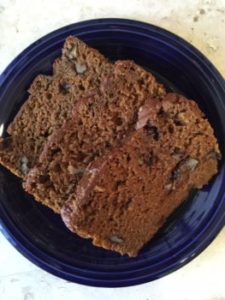 In my kitchen, pumpkin bakery isn't just for fall weather – I love it anytime!
So while searching through my 'bread' folder, I came upon this recipe I had printed back in 2010. The time to make it was obviously overdue!
Oil-Free Pumpkin Bread, by www.fatfreevegan.com, was simple to make and I must say it was the most flavorful and moist pumpkin bread I've ever baked (the pumpkin was noticeably prominent and yummy).
The recipe calls for "egg substitute equivalent to two eggs." I made flax eggs. One TBS ground flax and 3 TBS water, blended or whisked until frothy = 1 egg. (So for this recipe, I used 2 TBS ground flax and 6 TBS water, whisked.)
I also used whole wheat flour, and added about 1/2 cup walnuts.
Give this one a try. It's an official "keeper" in our house, and would probably make great muffins, too!
The Best Places to Eat Out
If you follow a whole food, plant-based, no-added-oil diet, you know that eating out can be a real challenge!
In this brief video, Dr. McDougall says that "eating out like a war zone!" But he's right when he suggests that ethnic restaurants are your best bet – Mexican, Italian, Chinese, Thai, and Indian, just to name a few.
Of course, nothin' beats home cooking for health and variety, but there are ways to eat out without compromising your health.
We'd love to hear some of your tips, too!








Related Stories
Instant Pot Lasagna Soup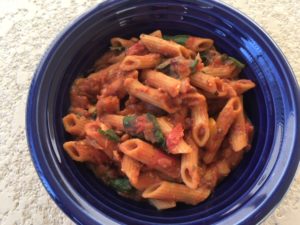 Guess what Santa delivered last month (via a gift from friends)? A brand new shiny Instant Pot!
A quick search for plant-based I.P. recipes revealed hundreds, of course, but this one from veganricha.com caught my eye: Instant Pot Lasagna Soup! I was in the mood for a tomatoey pasta dish, and this recipe seemed rather easy.
This was my first experience with an Instant Pot (I know, I know, I'm a late bloomer!) I've always used a Pressure Cooker (which is very similar), but I love the sauté feature with the Instant Pot!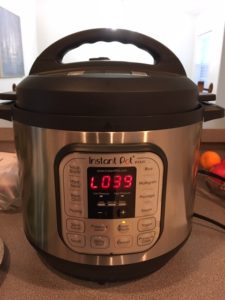 Here's what I did differently for this recipe: It calls for lasagna noodles broken into small pieces, or your pasta of choice. So I chose whole-wheat penne shells (5 oz., or about 1/3 of the 16-oz. box). I did not add the optional tomato paste (I'm sure it would be great), but I did add a bit more tomato puree than called for. I also added the optional fennel seed because I love its aroma and flavor.
Tip: This recipe comes together quickly, so have all your veggies chopped and ready to go.
Lasagna Soup turned out like a pasta dish rather than a soup, but you could add more broth if you choose. There are several variations/options listed on the recipe. Top with home-made Faux Parma, if desired. Easy and delicious!
Plus PACKED with fiber (11 grams), protein (14.5 grams), and is less than 10% fat!
Join My Book Launch Team
Let's Do Launch!
I'm excited to announce that The "Plan A" Diet book is in the hands of the printer! It won't be long now until I'll have copies in hand, and the book will be available for pre-order on Amazon.
A Book Launch Team helps create momentum and plays an important role in the book's initial "lift-off!" I'm looking for a great team of "Launchers" to help do that successfully!
Launchers are committed volunteers who read a complimentary copy of the book before anyone else (in digital form), and agree to post a review and share on social media.
For complete details and instructions on how to sign up, please click here.
Spots are limited, so don't delay – inquire today
– Would love to have you on the team!








Related Stories