Join My Book Launch Team
Let's Do Launch!
I'm excited to announce that The "Plan A" Diet book is in the hands of the printer! It won't be long now until I'll have copies in hand, and the book will be available for pre-order on Amazon.
A Book Launch Team helps create momentum and plays an important role in the book's initial "lift-off!" I'm looking for a great team of "Launchers" to help do that successfully!
Launchers are committed volunteers who read a complimentary copy of the book before anyone else (in digital form), and agree to post a review and share on social media.
For complete details and instructions on how to sign up, please click here.
Spots are limited, so don't delay – inquire today
– Would love to have you on the team!
Artificial Sweeteners: not so sweet for your health
Artificial sweeteners seem like attractive alternatives to sugar because they're intensely sweet and add no calories to your diet. Such sweeteners are widely used in processed foods such as soft drinks, candy, jellies, dairy products, puddings, and pretty much anything labeled "sugar-free." The most popular fake sweeteners on the market today are Equal and NutraSweet (aspartame); Splenda (sucralose); Sweet One, ACK, and Sunett (acesulfame); and Sweet 'N Low (saccharin).
I notice a lot of people drinking diet sodas and adding fake sweeteners to their coffee, tea, and even food, just to save a few calories. But is that really a good idea? Consuming chemically altered, man-made products which are not found in nature DOES have it's consequences. Fake sweeteners in general seem to have one thing in common – they all negatively affect our health, even in small concentrations.
Here's a few reasons why we should take a pass on fake sweeteners:
Increased fat storage and the risk of obesity
Increased risk of metabolic syndrome
Induces glucose intolerance and affects A1c levels, contributing to type 2 diabetes
Linked to hypertension
Alters our gut bacteria (which has been observed to increase rates of irritable bowel, inflammatory bowel, ulcerative colitis, and Crohn's disease), and detrimental for those who already suffer these conditions
Artificial sweeteners made in a laboratory contain no nutrition and should be avoided. Stevia is the only packaged sweetener I'm comfortable recommending for beverages. To date, there are no known health issues when stevia is used sparingly. Other alternatives include date paste or date syrup, which are made using only whole dates, or natural sugars used sparingly as shown in my previous post.
To learn more, check out Dr. Greger's videos:
Splenda side effects
Aspartame and the Brain
Does Aspartame Cause Cancer?
So, whether you eat or drink, or whatever you do, do everything to the glory of God.
1 Corinthians 10:31 (GW)
Sugar – In Reasonable Amounts?
Many people struggle with sugar, after all, it's one of the most highly addictive foods out there.
Perhaps your New Year's resolution includes giving up (or reducing) the amount of processed sugar in your diet.
In this brief video, Dr. John McDougall discusses how to use natural sugar in small, reasonable amounts when consuming it along with starch (oatmeal, whole grain pancakes, and so on). Doing so is fine for most people.
If you're a sugar addict, however, all refined sugars are best eliminated totally. Fruit and dates are a great way to satisfy your sweet tooth or sweeten recipes, too. Here's a simple Chocolate Caramel Shake recipe – sweetened only with bananas – which is delicious, and satisfying:
1.5 cups unsweetened plant milk
2 small frozen bananas (peel bananas, cut into chunks, freeze)
2 TBS cacao powder (or cocoa)
¼ tsp. caramel extract
Blend all in a high-powered blender until smooth. To make the shake sweeter, add a few pitted dates . To thicken the shake AND add sweetness, add additional chunks of frozen banana. To thin the mixture, add a bit of plant milk. Tweak as you go.
It's not smart to stuff yourself with sweets,
    nor is glory piled on glory good for you.
(Proverbs 25:27, MSG)
Planning to diet this January? Do this first!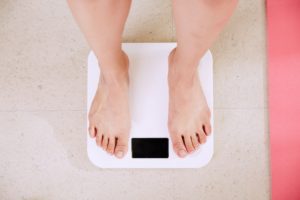 The holidays and the leftover desserts will soon be behind us, which means that many Americans will once again be resolve to make some changes beginning January 1. Several statistical websites reveal that the top three resolutions typically include losing weight, getting fit, and living life to the fullest. Fortunately, all three of those goals can be achieved with one lifestyle change….namely, diet.
There are hundreds of diet plans on the market today. In addition to the mainstream diet plans we see advertised with their celebrity spokespeople, a quick google search reveals such things as the Cabbage Soup diet, the Cookie diet, the Leek diet, the Baby Food diet, various e-diets, and so on. Some people fall prey to these questionable, unhealthy diet plans as their unrealistic hunt for the next magic bullet continues. Then there are the more popular fad diets, including calorie restriction diets, blood type diets, keto diets, anti-grain diets and caveman diets, which are typically low-carb, high protein diets; these types of plans can be quite dangerous, as I've explained in previous columns.
Here's the plan you need if you want to lose weight permanently and improve or REGAIN your heath while doing so!
Don't dwell on past failures – instead look ahead to the fit, healthy person you're designed to be!
But the Lord says,  "Do not cling to events of the past or dwell on what happened
long ago. Watch for the new thing I am going to do.
It is happening already—you can see it now!
I will make a road through the wilderness and give you streams of water there.
Isaiah 43:18-19, Good News Translation (GNT)
Kiwifruit for Colds and Sore Throats
'Tis the season for the common cold and upper respiratory infections! If you've fallen prey, what can you do to speed up your healing?
According to this study shared by Nutrition Facts.org, gold kiwifruit may be the answer. Researchers compared two groups of people (eating either 4 gold kiwifruit per day, or 2 bananas per day) and found that the kiwi eaters significantly reduced the severity and duration of head congestion AND sore throats.
Apparently, gold kiwifruit can boost our natural killer cell activity and support our immunity system.
A study done in children not only showed similar results, it further demonstrated that kiwi-eating children were 45% less likely to contract a cold or the flu in the first place. (It should be noted that kiwi is a common food allergen, so beware).
I honestly didn't know there was such a thing as gold kiwifruit until reading this article. I've only ever tasted the green variety. I googled "where to buy gold kiwifruit" and found a few stores that may stock it. Check it out in your area and let us know if you find them.
One caveat: The study was sponsored by Zespri – a company  that sells gold kiwifruits. I advise people to be skeptical of industry-funded research, but I see no harm in eating 4 gold kiwi a day to see if it helps!
Here's the study link, in case you're interested: