Easy Tostadas are Muy Bien!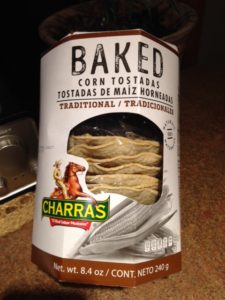 Are you craving a crunchy taco?  I sure was, but I had given up searching for crispy taco shells years ago since most store-bought shells contain lots of oils.  And I although I could bake my own shells using the small corn tortillas, I decided to once again peruse the grocery shelves to see what's out there.
Then I stumbled upon these Charras oil-free, baked corn tostadas in the ethnic section of the grocery store.  Oh. My. Goodness.
These baked corn tostadas are incredibly yummy and so versatile!  You can top with your own mixture of rice/beans; or sautéed burrito spiced veggies; or make incredible nachos with Mexican Cheese Sauce; or break into chips for use with your favorite guacamole or salsa recipes.
One of our new personal favorites is to top a crispy tostada with: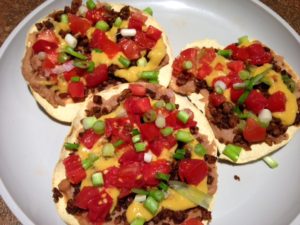 Fat free refried beans (any variety, just be sure they're oil-free).  Spread as thick as you wish.
Add 1-2 TBSP of Taco Meat  (see note)
Drizzle a bit of Fat-free Mexican Cheese Sauce
Add chopped tomatoes, green onions, shredded lettuce.  Oh, and jalapeno if you like the heat.
Your favorite taco sauce (optional)
(Note:  For the taco meat, I used 3 cups of "riced cauliflower" that I purchased in the frozen section of Walmart, 4 oz. mushrooms, and 1 cup of walnuts, along with the spices as shown in the link).
So far I've seen the Charras Baked Tostadas at Fresh Thyme and at certain Walmart stores; they're reasonably priced between $2.20 – $2.70 a package.
I'd love to hear some of your ideas or see a photo of what you create!
Quiz: Which Food is a Top-Rated Cancer Causer?
Take the Food Quiz:
What may you be eating that's classified in the same cancer-causing category as asbestos, arsenic and cigarettes?
What foods being served in all of mainstream America are ranked in the highest of five possible categories of cancer-causing substances?
What popular foods has the American Institute of Cancer Research warned us that we should totally avoid?
 What one serving of food can raise your risk of colon cancer by 18% (and who stops at just ONE)?
 What foods being served at many cancer fundraisers are ironically the same foods that cause cancer?
The answers are found here, my friends, and I pray that you'll take this message to heart.  No food is worth the risk of hearing "I'm sorry, you have cancer."
"Don't become so well adjusted to your culture that you fit into it without even thinking.  Instead, fix your attention on God.  You'll be changed from the inside out."  (Romans 12:2a, MSG)
Stumbling Blocks to Dietary Transition
Are you struggling to eat a healthier diet?  Often our pre-conceived beliefs or worry about the changes occurring in our bodies can be a major stumbling block.
Dr. McDougall released a newsletter yesterday which contained some great answers to these concerns.  He discusses FAQ's about food preferences, weight gain, stopping medications, anemia, and changes in blood sugar, blood pressure, HDL levels and triglycerides.
Enjoy the remaining days of summer, and take to heart the assurance of His promise:
When I feel my foot slipping, your faithful love steadies me, Lord.  When my anxieties multiply, your comforting calms me down.  (Psalm 94:18-19, CEB)
Dr. Lim Discusses Benefits and Mistakes of WFPB Diet
Dr. Lim is the Medical Director for the McDougall Program in Santa Rosa, CA.  We met him at the McDougall conference last year and were very impressed with his personal story, his intelligence and credentials, his over-achiever accomplishments, and his vision for the future of health care.
In the short video below, Dr. Lim discusses various topics, including why he quit the Paleo diet, mistakes people make when switching to a whole food, plant-based diet (WFPB), and the biggest health misconceptions being promoted right now.
It's only about 11 minutes – well worth the watch!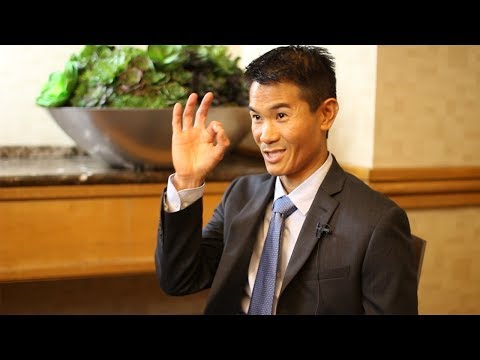 Don't become so well-adjusted to your culture that you fit into it without even thinking.  Instead, fix your attention on God.  You'll be changed from the inside out.  (Romans 12:2a – MSG)
"Health" food stores?
While conducting classes or coaching people individually, I've been surprised by the number of reasonably intelligent people who hold the belief that everything sold at the health food store is actually healthy. This is an unfortunate misconception that stems from a combination of savvy product marketing and uninformed consumers.  While there certainly are some healthy products at the big chain and smaller independent health food stores, many items are nothing more than junk food with a fancier label and higher price.
Product labels can be very deceptive. The words "Light", "Natural", "Organic", "Gluten-Free", "Fat-free" and other assertions are terms manufacturers use to lure you into purchasing their products.   Some products of concern include fake meats and cheeses, jars of coconut oil, protein energy bars,
protein shake mixes, certain cereals and crackers, tortilla chips, pre-packaged salads, salad dressings, oil-infused dried fruit, most canned soups, organic margarines and even certain peanut butters; these products are highly processed items which contain added oils and other fats, dairy proteins such as whey or casein, excessive sugar, sodium, additives, preservatives and even food dyes.  The only real way to determine if a product is truly healthy is to read the ingredient list.  Doing so will allow you to make an informed decision about whether you should purchase the product or put it back on the shelf.  Some of the key things to look for are listed here.
Do yourself a favor and learn all you can; then remember what you learn and you will prosper.   (Proverbs 19:8, GNT)