I take meds, so I'm healthy…..right?
Big Disconnect #2
(
an excerpt from the upcoming book, The 'Plan A' Diet™):
Taking medication for a chronic condition and believing that the condition no longer exists ranks as another Big Disconnect I've witnessed over the years. The majority of people taking such meds can fall prey to a false sense of security; they reason that because their biomarkers are now within range or their symptoms are relieved, the problem has been solved.
The typical American makes no meaningful lifestyle changes because they believe their health issues have been fixed by a prescription, and their doctors are not telling them otherwise. Some of my clients consider themselves to be in excellent health in spite of the need for several daily prescription meds.  The chronic condition, along with its root cause, still exists; only the biomarker readings or symptoms have improved (for now).  The ailment will not be given the environment to halt, reverse or partially heal because the underlying root cause is not being addressed; instead, in most cases, the ailment will continue to progress unless a serious change in diet occurs.
The person who trusts in himself is foolish, but the person who lives wisely will be kept safe.
(Prov. 28:26, ICB) 
     Why stay on a lifetime regimen of medication (along with their side effects which often require MORE medication), when changing to the dietary pattern God designed us to eat has been proven time and again to be the answer?  Why "manage" disease when you can most likely get rid of it?
Click here to read about Disconnect #1:  Not Understanding the Cause and Effect of FOOD
PS: Exciting News – The book proposal for The 'Plan A' Diet is in the works!  Pray that the Lord puts the right agent and/or publisher in my path and that I have the wisdom to recognize it.  People are dying prematurely and needlessly, all because of food choices.  I'm praying that this book will be an encouragement and wake-up call to many.
Photo credit: Erin DeMay via Visualhunt.com / CC BY-NC-SA
Big Disconnect #1
  Have you ever considered how many things we do in the interest of prevention?  We wear seatbelts to prevent injury if we're in an accident.  We install security alarms to prevent burglaries and we have our cars tuned up to prevent breakdowns.  We wear sunscreen to prevent sunburn and purchase certain toothpastes to prevent tooth decay.  We wear deodorant to prevent losing friends and we back up our computers to prevent losing data.  We put certain oils on our pets to prevent fleas.  And we  purchase all types of insurance – including health, life, home, and auto – to prevent financial loss in case of just about anything.
Where we are sadly lacking in this wide arena of prevention is in what we choose to consume every day.  We may be willing to spend a ton of money on supplements because we're erroneously led to believe they prevent disease, but we often give little thought to the role nutrition truly plays in the prevention, halting and reversal of disease.  Here are a few of what I call 'The Big Disconnects' between nutrition and health:
Big Disconnect 1: Not Understanding the Cause and Effect of Food
     We can all relate to the immediate pain that results from touching a hot stove or stepping on a sliver.  It's quite easy in those instances to identify the current cause of pain as the stove or the sliver.  My job would sure be easier if that same identifier were true of the three to five pounds of food we consume every day.  When it comes to diet, the more time that elapses between food intake and the resulting effect, the more difficult it is to make the connection between the two; and the more unlikely we are to change our behavior or take any required action.
  There are certain health conditions for which the cause of pain is easily identifiable; for example, people with acid reflux, migraines or hangovers may be very able to trace their ailments to what they've recently consumed. For the most part though, so much time elapses between the consumption of bad foods and the resulting injury that people are not connecting the dots….. especially when they pour fuel on the fire at least three times a day.  The Big Disconnect between wrong food choices and the resulting ailments would be greatly eliminated if we were to experience chest pain immediately after consuming a cheeseburger and fries (or any high-fat meal for that matter). Or if our joints began to ache immediately after eating a breakfast of glazed donuts.  Or if we could feel our blood pressure spike after consuming a fried chicken dinner.  Or if we could feel a colon polyp developing after consuming a sausage pizza. Only then might people connect the dots and realize the true risks of the Standard American Diet.                  
Before we embarked on our plant-based journey, my husband would order up a fish dinner and a milkshake at a popular fast food chain, and shortly thereafter would develop a mucousy cough which would last about an hour.  It was only after we studied the cause-and-effects of food – including the irritants of dairy and fat – that we made the connection. 
Have you connected the dots between your food choices and your health?  If not, it's never too late to educate yourself on the benefits of a whole-food, plant-based diet.  It's the only diet shown to not only prevent, halt and reverse disease, but to also reverse clogged arteries which lead to our number one killer, heart disease.  God's "Plan A" diet – the food He originally prescribed to keep man thriving and in optimal health – is readily available, easy to prepare in a wide variety of recipes, and absolutely delicious. 
Stay tuned for the next blog:  Big Disconnect #2.
"Intelligent people are always ready to learn. Their ears are open for knowledge."
(Proverbs 18:15, NLT)
Photo credit: Stian Olsen via VisualHunt / CC BY-NC
Photo credit: jpalinsad360 via Visualhunt / CC BY-SA
Should your melon go in the fridge?
Do you recall where you learned how to store your fruits and veggies?  No one ever taught me the proper way, and I wasn't paying much attention to how my mom handled it……so as an adult I just made it up as I went along.  If I thought the fruit was hearty, I left it on the counter.  If the item seemed fragile, I'd store it in the crisper drawer of the fridge.
Turns out I was off-base on a few things!  I always put fresh ginger in the fridge (wrong) and let the peaches sit on the counter until they get too ripe/mushy (wrong).  I've never stored my basil in water, and rarely have I used the right type of 'storage bags'…..although I did invest in the "As Seen on TV" Debbie's Green Bags several years ago.   I don't recall having good luck with them, but again, it may have been due to my unscientific system.
Have you ever purchased a hard avocado, hoping it would soften up before Thursday night's fajita dinner?
Well, it turns out we can enhance that ripening process by storing the avocado inside of a paper bag along with an apple!  Who knew?
Here's a link to "Fruit & Vegetable Storage 101", an article produced in collaboration with the Centers for Disease Control (CDC).  You may find it helpful, as I did.   Scroll down to the bottom of the page to view or print the handy-dandy pdf chart for easy reference.
Want to know the best way to CLEAN your fruits and veggies?  Dr. Greger explains why a home-made salt solution (along with the mechanical action of rubbing) is a great option…..read more here.
Finally, please remember to keep eating those fruits and veggies!  The recommendation is that adults consume 1.5 – 2 cups of fruit, and 2- 3 cups of vegetables daily; however, a study released by the CDC in 2015 revealed some very troubling data.  During 2007-2010, 76% of Americans did NOT meet the recommended fruit intake, and 87% did NOT meet the recommended vegetable intake. Half the total US population consumed less than 1 cup of fruit and less than 1.5 cups of vegetables daily.(1)  Those results are dismal to say the least, especially for such meager recommendations.
Sadly, the kids aren't doing much better.  The CDC reported that improving fruit and veggie intake during childhood is definitely needed; 60% of children consumed less than the recommended fruit, and 93% consumed fewer vegetables than recommended during that same time frame.
The CDC says that eating more fruits and vegetables adds nutrients to the diet, reduces the risk of heart disease, stroke, and some cancers, and helps manage body weight when consumed in place of more energy-dense foods.
We also know that a host of other ailments are relieved or reversed by consuming an entire diet based on whole plant foods – which by the way is the only diet proven to REVERSE heart disease.
Make it a goal to  increase those fruits and veggies!  (Especially now that we know how to store them).
Blessings to you and yours ~
---
(1) https://www.cdc.gov/mmwr/preview/mmwrhtml/mm6426a1.htm
Photo credit: USDAgov via Visualhunt.com /  CC BY
Photo credit: Aurimas Adomavicius via VisualHunt.com /  CC BY-ND
Photo credit: cheesy42 via Visual hunt /  CC BY-NC-ND
Three Thumbs-Up Recipes, and Our Next Potluck
If you're like me, you might have a file folder (or computer file) labeled "Recipes To Try".  Well I went into the folder this week and decided to make three recipes from Chuck at the "Brand New Vegan" website.  Here's how they turned out:
Creamy Fat Free Macaroni and Cheese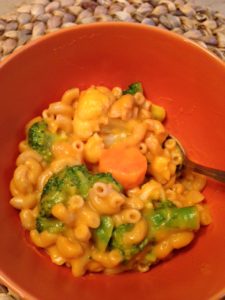 The 'cheese' sauce for this recipe is really good.  The base of the sauce is potatoes and carrots, and as Chuck points out in the recipe, it's creamy, cheesy and decadent.  I agree!  The recipe calls for a bag of frozen veggies to be stirred in at the end of the pasta boiling time, but instead I bought a bag of carrot/broccoli/cauliflower steamers, microwaved them, and stirred them in after the pasta was drained.  The nice thing is that you can add it whatever veggies you want!  Also, I did not have brown mustard on hand, but used Dijon and it worked fine.  NOTE:  The cheesy sauce recipe does make more than you'll need, so you can either make additional pasta, or save the extra sauce for potatoes, nachos, or wherever you like to eat cheese sauce!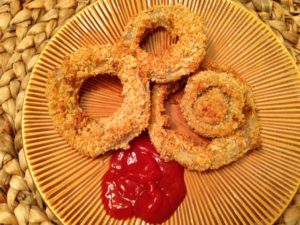 I've been craving some really good onion rings, so when I saw this recipe in the "To Try" file, I quickly pulled it out and decided today's the day.  I followed the recipe pretty much to the tee (except that I forgot to cover the onions while they were soaking in the fridge for an hour).  I'm not sure if that mattered, I'll find out next time I make them.  In any case, these turned out really well, and yes they are crispy!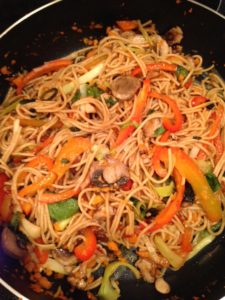 I typically haven't chosen Lo Mein dishes in the past when we ordered Chinese….but this recipe looked like an interesting comfort food and I had almost everything on hand.  One item I had to purchase was "chili garlic sauce", and I'm not sure if I used too much, but it proved to be a bit too spicy for my delicate palate.  I can tolerate a little heat, but this one made me break into a sweat; again, perhaps I added too much.   I was also expecting a sweeter tasting sauce, but I'm not sure why since I've never ordered Lo Mein!  The recipe calls for only 1 tsp. of brown sugar, which should have been a clue.  Anyway, I added a little "sweet chili sauce" to my own plate which made mine a bit sweeter (but still very spicy for me).  This is a great recipe, I just need to tweak the sauce by cutting back on the chili garlic sauce.  My advice is to start with just a little and add as you go.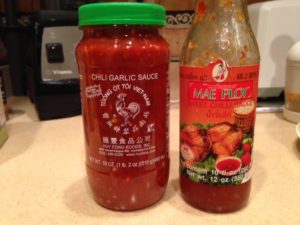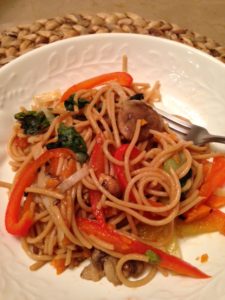 I also used mixed greens instead of spinach, just because I had the mixed greens on hand.
Lastly, I found both the Chili Garlic Sauce and the Sweet Chili Sauce in the Asian section at my local Walmart.
Have you tried any new whole-food, plant-based, oil-free recipes lately that you feel are "keepers"?  If so, we'd love to hear about it!
OUR NEXT POTLUCK:  If you live in the area of Wilmington, IL, we're hosting our next "World's Healthiest Potluck" on Friday May 12, 2017.  More details can be found here.   (Seating is limited.  RSVP's are requested, and the deadline to reserve a spot is Sunday May 7).
Dear friend, I pray that you may enjoy good health and that all may go well with you, even as your soul is getting along well.  (3 John 1:2)
Aren't Potatoes Fattening?
While purchasing my groceries at the check-out line recently, the cashier made the two following comments:
 As he scanned and examined a bag of lentils, he actually asked me if this was a food we eat for lent (seriously).  I explained what a lentil is……he had obviously never heard of them.
Upon finishing the scanning of my groceries, he commented "boy, the only thing fattening you have here is that bag of potatoes."  I politely remarked that potatoes aren't fattening, but when he made another similar comment, I explained that it's the TOPPINGS that make potatoes fattening, not the potato itself.  I don't think it sank in.
His comment about potatoes led me to shed some light on the poor little potato, often blamed for everything from being a dreaded, fattening carb to having too high of a glycemic index.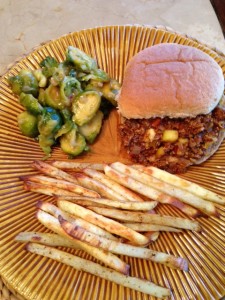 Both potatoes and sweet potatoes are nutritious and delicious tubers which can be made into awesome main entrees or side dishes.  And both fit into a healthy diet no matter if your goal is weight loss, health improvement, or both.   And yes, potatoes are SAFE for diabetics; in fact, a whole-food, plant-based diet including starches is able to REVERSE Type 2 Diabetes in a short amount of time.
Complex carbs such as potatoes are the body's main source of energy, and our brains also depend on such carbs (remember, there's a BIG difference between complex carbs such as whole potatoes verses refined carbs such as French fries and potato chips).
It's a common misconception that starchy foods such as potatoes are fattening…… people often believe that the sugars in starches are readily converted to fat, which is then stored in our bellies, hips and butts.  But while it's true that complex carbs break down into simple sugars, these sugars are absorbed into the blood stream and transported to trillions of cells throughout the body for energy.
Some reasons why potatoes aren't fattening (from Dr. McDougall's newsletter):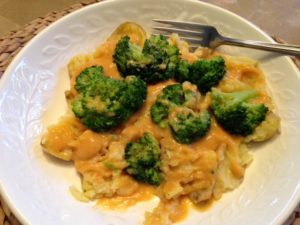 1)  Don't Be Dense.  Potatoes are at the bottom of the list of calorie dense foods, at one calorie per gram.  By comparison, sugar, cheese, and beef are about 4 calories per gram and vegetable oils are 9 calories per gram.
2)     The Fat You Eat Is the Fat You Wear.  Potatoes are 1% fat – so there are virtually no fat calories to wear.  (By comparison beef and cheese can be 70% fat and butter is 100% fat).
3)     Carbohydrate Satisfies the Hunger Drive.  Potatoes are at the top of the carbohydrate list with about 90% of the calories from appetite-satisfying carbohydrates.  (On the other hand, beef, fish, chicken, butter, and olive oil are a few examples of commonly consumed foods with no carbohydrates).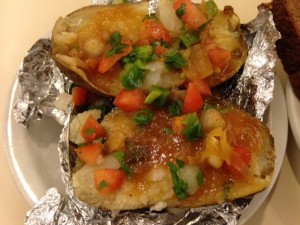 Of course, all bets are off if you top your potatoes with butter, margarine, sour cream, oil, cheese, bacon bits or other added fats.  It's those high-fat toppings which contribute to the increase in heart disease, diabetes, arthritis, dementia and other chronic disease – not the potato itself!  Fortunately, there are many healthy toppings you can choose, such as salsa, soups, chilies, dressings, low-fat guacamole, or this delicious Golden Gravy.
There are hundreds of healthy potato recipes out there……here are just a few of our favorites:
Fat-Free Cheese Sauce  – great for Cheesy/Broccoli Baked Potatoes!
Sweet Potato Broccoli Cheese Soup
Sweet Potato and White Bean Curry Soup
Cocoa Black Bean Chili with Roasted Potatoes
Boiled Yukon Golds topped with Mushroom Gravy
Bottom Line:  Potatoes are a nutritious, satisfying comfort food which contain vitamins, minerals, fiber, anti-oxidants and phytochemicals (with no cholesterol or fat) – and we can enjoy them freely when they are prepared correctly without the added junk.
Pass the gravy!