Are Gluten-Free Diets for Everyone?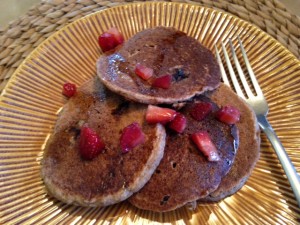 Dear Coach:   I've been on a gluten-free diet for about 2 months now, faithfully avoiding all wheat products.  I do feel a little better.  What do you think, should I continue?  Signed, Sandy
Dear Sandy, Thanks for your question! Since you didn't specify what prompted you to go on a gluten-free diet or why you're not feeling well, I'll provide some general information about gluten-free diets (and why they're not for everyone); hopefully it will answer your question. Continue reading here.
Do we need more protein after age 65?
If you've been following the advice of plant-based nutrition leaders for any length of time, you're probably aware that no more than 10% of our calories should come from protein. And yes, the type of protein matters greatly (animal vs plant).
Studies show that those who consume lots of animal protein have a much greater risk of cancer death and a 73x higher risk of death by diabetes; those who consume "moderate" protein (10%-19% of calories) have roughly 23x the risk of dying from diabetes.
So what about the study which suggests elderly people have a higher protein requirement? As Dr. Michael Greger explains in this article, not only is evidence lacking to support that study, there's a Japanese study which proves the opposite. A study in 2008 found NO difference in the protein requirements between young and old.
When it comes to muscle mass, sedentary people over age 65 lose about 1% of their muscle mass every year, but older adults on bed rest may lose muscle mass 6x faster than young people. But muscle mass is maintained with exercise and strength training at any age, so it's use it or lose it for everyone.
Dietary-wise, vegetables are associated with cutting the odds of low muscle mass by roughly 50%. The alkalizing effects of vegetables neutralize the mild, metabolic acidosis that occurs with age. Dr. Greger explains that muscle wasting appears to be a response to acidosis (when our kidneys start to decline due to eating an acid-promoting diet which includes fish, pork, chicken, and cheese). Beans and other legumes are the only source of protein that's alkaline and positively associated with muscle mass in all women ages 18 through 79.
Exercise and plant-based nutrition are key to health, vitality, and the ability to function – at any age.
Instant Pot Chickpea, Potato, & Spinach Soup
Here's a keeper! We made this Chickpea, Potato and Spinach Soup from Vegan Richa for the first time in January (2019) and have made it several times since. It gets a thumbs-up from everyone who tries it!
This recipe provides a delicious, low-fat comfort soup with plenty of protein, fiber, iron, potassium, and vitamins A and C. The combination of fennel seeds, oregano, rosemary, thyme, cinnamon and other spices result in a wonderful flavor. You may want to double the recipe – I usually do!
One caveat: The first time I made this, I did not heed the directions which state that "certain non-dairy milks tend to separate under pressure" – please add the plant milk at the end. I cooked the plant milk in the Instant Pot and it did indeed separate. The soup was still quite tasty and edible, but lesson learned. From then on, I simply added the soy or cashew milk at the end, after everything else was cooked, and it warmed up nicely in the Instant Pot.
If you don't have an Instant Pot, directions are provided for preparing this soup on the stove top.
Enjoy!
What would you rather do? (Your answers matter!)
If you had the chance to attend a weekend event where you would have fun, eat delicious food, and learn how to begin (or enhance) cooking a healthy, plant-based diet, which of the following activities would be highest on your priority list?
Please choose your favorites from the below list, then rank them in order of interest (with your highest interest listed first). Spell them out in a reply to this post; there's no need to list them all, only your favorites. You can also email me privately at cydnotter@comcast.net. The thought of offering such weekend retreats in sunny Florida is on my radar. Your feedback will be greatly appreciated and will help me determine the most helpful things to offer. Thank you!
___ Cooking demonstrations (with no personal involvement)
___ Meal preparation with hands-on participation
___ How to batch cook (hands-on)
___ Short slide preso on various health topics (diabetes, heart disease, cancer)
(which topic?_______________)
___ Short slide preso on the topic of dairy
___ Short slide preso on the topic of inflammatory foods
___ Short slide preso on the topic of Brain Health
___ Tips for transitioning to plant-based eating
___ Tips to overcome obstacles and procrastination
___ Label-reading mini-class
___ Watch a popular health/nutrition documentary
___ Develop meal plans to fit my family
___ Go on a grocery shopping tour
___ Learn how to choose wisely from a menu
___ Morning exercise session (yoga, walking, swimming – your choice)
___ A free-time session to do as I wish (pool, sun, read, whatever)
___ A combo – I like them all
___ A combo – I like them all – plus include devotionals
___ Other: ___________________________________
If you don't ask for advice, your plans will fail. With many advisors, they will succeed.
(Proverbs 15:22, ERV)








Related Stories
Is a Plant-Based Diet Safe for Children?
(The following is an excerpt from my new book The "Plan A" Diet: Combining Whole Food, Plant-based Nutrition with the Timeless Wisdom of Scripture)
Is this diet safe for children?
Of course it is, but I sense your concern. You may be willing to change your own diet, but are leery of any perceived risks to your child. That's understandable. But a diet plan proven to be the healthiest one on the planet certainly applies to the children, too.
Because your child's health is a priority, may I encourage you to change their diets now. The Standard American Diet, filled with too much protein, fat, cholesterol, and environmental chemicals, leads to many common health issues for kids. (Read the rest of the article here.)