Is a Hot Dog Really Worth it?
Hey there ~ I recently submitted the below 'Letter to the Editor' to two local newspapers. Please share this vital information with your family and friends.
Dear Editor,
Summertime. The season of cooperative weather, gardening, and enjoying our favorite outdoor activities. Between Memorial Day and Labor Day, summer is also known as "peak" hot dog season. Not only are hot dogs regularly served at our social gatherings and picnics, they're available at festivals, baseball games, store parking lots, fund raisers, and gas stations.
The red tubes filled with a variety of meat pastes, fillers, salt, preservatives, nitrates and flavorings are especially celebrated in hot dog eating contests on National Hot Dog Day. According to marketplace.org, Americans consume around 20 billion hot dogs each year (that's over 70 per person), with 150 million being eaten on the fourth of July alone.
The public is largely unaware of the connection between processed meats and the very real cancer risk. The American Institute of Cancer Research wholeheartedly agrees with the World Health Organization's report that processed meats (hot dogs, bacon, sausage, pepperoni, ham, jerky, deli meats, and anything smoked or canned) are ranked in the highest cancer-causing category, along with asbestos, arsenic and tobacco.
Processed meats are KNOWN carcinogens (not just linked to cancer, but initiators of cancer). One daily hot dog, 2 slices of bacon, or one smoked sausage increases the risk for colon cancer by 18%. And that's just for one portion. All other meats, such as beef, chicken and pork, are ranked in the "probably causes cancer" category.
Processed meats also raise the risk of stomach, prostate and pancreatic cancer. Yet we continue to promote eating a food that's a bigger contributor to cancer than smoking. I continually strive to raise awareness of the connection between diet and disease by awakening people to the health risks of the Standard American Diet (SAD). The colorectal cancer rates have doubled in recent years in younger adults, and I urge local organizations who sell processed meats, host social events or promote contests to take these matters seriously. Diet is the biggest determinant of our health (greater than genetics or environmental exposures). A whole food, plant-based diet is your best defense in the prevention and reversal of our ever-growing disease rates.
Cyd Notter
Nutrition Educator
Brain Fog: Real Condition or Selling Tool?
Today I'm sharing an article about "Brain Fog" that I found to be quite enlightening.
I've heard of having a Brain Warp (being hungry or irritated) and I've heard of Pump Brain (a condition following surgery). I can even relate with being a Space Cadet, a Scatterbrain or having a Senior Moment every now and then. But Brain Fog was a new one on me.
I know, I know. We all have our moments of temporary memory lapse or times when we're not concentrating well. But what is Brain Fog? What causes it? What are the symptoms, and how is it diagnosed? What are the treatment options? Except for a very few conditions where Brain Fog may legitimately co-exist, is Brain Fog even for real?
Well, guess what, brain fog may be just another selling tool for certain proponents of alternative health care and/or high fat diets. When Dr. Pam Popper of Wellness Forum Health decided to look into this issue, she discovered several websites hosted by doctors and paleo advocates who affirm this condition – along with its lengthy list of symptoms that could apply to everyone on any certain day. Each website lists their own 'root causes' of brain fog, and what the recommended treatment should be. To say that some of these claims are doubtful would be kind.
She then decided to search for published studies on brain fog as a stand-alone condition, and could not find any. One doctor on the above referenced websites even admits that he has not found much medical research or any clinical studies on brain fog.
I won't spoil the fun. Read the article for yourself, and then remember how important it is to do your own research before falling for questionable "conditions" which are basically being promoted to sell you a service or product. Please investigate the claims made on the websites you're following. If they don't cite any credible, independent research, beware.
Having said all of the above, if you're concerned with brain fog that's associated with disease (such as Alzheimer's disease), your best protection is a whole food, plant-based diet without added oils. Diet is critical when it comes to brain health – not only to prevent dementia, but stroke as well.
Here are a few resources:
Dr. Neal Barnard's Power Foods for the Brain. (I offer an entire class on this topic).
Dr. John McDougall's article on Chronic Aluminum Poisoning.
Dr. Michael Greger's article/video on How to Prevent Alzheimer's with Diet
Set your minds on things that are above, not on things that are on earth.
(Colossians 3:2, ESV)
Please subscribe to my monthly newsletter for current articles, recipes, and behind-the-scenes book updates.
Photo credit: TheDyslexicBook.com on Visualhunt / CC BY
Strawberry Rhubarb Crisp
For the first time in my entire life, I have baked with rhubarb. Now I'm wondering what took me so long!
Even though it's something I rarely eat, I have always LOVED anything Strawberry Rhubarb (pie, crisp, crumble, whatever). So when I came upon this easy recipe, I decided to finally give it a try.
Distance prevents me from shopping at Whole Foods very often, but I made the trip last week and discovered they had both organic rhubarb (already pre-cut) and organic strawberries on sale. That made the recipe even sweeter!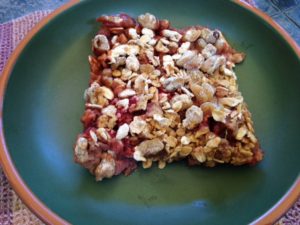 Strawberry Rhubarb Crisp 
3 cups diced rhubarb
1 pound strawberries, hulled and sliced
1/2 cup sucanat (natural cane sugar), divided
1/2 cup plus 2 TBS whole wheat pastry flour, divided
1/4 cup pitted and chopped Medjool dates
1/2 cup rolled oats
1/2 cup chopped walnuts
3 TBS orange juice
Preheat oven to 375. Line a 9×9 pan with parchment paper and set aside.
In a large bowl, combine rhubarb, strawberries, 1/4 cup sucanat, 2 TBS flour, and the dates.
In a separate bowl, mix the rolled oats, remaining 1/2 cup flour, remaining 1/4 cup sucanat, walnuts and orange juice. Evenly spread fruit mixture into pan. Top with oat mixture, spreading evenly. Bake 35-40 minutes until golden brown and bubbly. Spoon into bowls and serve warm.
I used a 9×9 silicone pan, so no parchment paper was necessary. I highly recommend this easy recipe….it's one that's even special enough for company
He gave plenty to drink to those who were thirsty.
He filled those who were hungry with good food. (Psalm 107:9, GW)
Do you have a favorite rhubarb recipe? Would love to hear about it! Please reply here.
Which Veggie Burgers are considered C.R.A.P. (Calorie Rich and Processed)
I read an interesting post today by Jeff Novick (Jeff is an expert dietitian affiliated in part with the McDougall program).
In the post, he describes an on-line debate that occurred over the "Beyond Meat" veggie burgers, and he gives reasons why the "Beyond Meat" burger is not a healthy choice. If we're going to purchase processed products once in a while, label reading is important! We usually don't have to go any further than the ingredient list.
Another interesting tip: Now that food manufacturers are no longer required to reveal the percentage of fat in a product, Jeff explains how we can tell the percentage of fat by doing just a bit of math. He mentions The Impossible Burger (I'm not familiar with that one) and shows how that product is 53% fat (with 41% of that being saturated fat).
Here's the link to Jeff's post.
Making your own plant-based burgers at home is easy and delicious! Here are just a few of the hundreds out there.
Fat Free Baked Mexican Black Bean Burgers (the Vegan 8)
Sweet Potato Curry Burgers (Jeff Novick)
McVeggie Burgers (Dr. McDougall)
White Bean, Wild Rice and Almond Burgers (Dr. Fuhrman)
Savory Lentil Mushroom Burgers (FatFree Vegan) 
I'd love to hear about your favorites too!
In the mood to grill some ribz?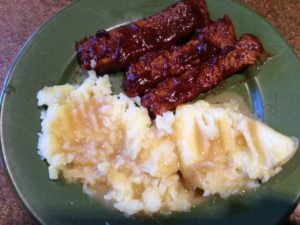 Are you looking for some healthy ribs which are easy to make and oh-so-delicious? Then you won't regret giving Barbecued Seitan Ribz a try!
This recipe from The Fat Free Vegan website is definitely going into the "keeper" file.
Seitan (say-tan´) is another name for wheat gluten, which is a food made from the main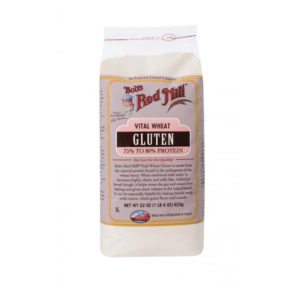 protein of wheat. Also known as "wheat meat," seitan is a popular meat replacement because of its texture and versatility.
Wheat Gluten (or Vital Wheat Gluten) can often be found in your local health food stores (including Whole Foods, Fresh Thyme, the Fruitful Yield, etc) or you can easily purchase it on line. Bob's Red Mill is the brand I use, but some stores may carry it in bulk.
The recipe makes 16 ribz, so you may want to double it. Four ribz are considered a serving (and one serving has nearly 28 grams of protein!) Of course, it's impossible to be protein-deficient while eating a whole food, plant-based diet, but just one serving of this recipe could provide about half your daily requirement.
The recipe calls for Smoked Spanish Paprika, but I just used regular Smoked Paprika, which I bought at Berkots in the produce section. Also, instead of grilling, I chose to bake this recipe as outlined in the directions – but I'm sure they'd be awesome grilled, too.
If you serve with smashed potatoes and gravy, try this Golden Gravy Recipe by Mary McDougall! Add a salad or a cob of sweet corn and you're all set!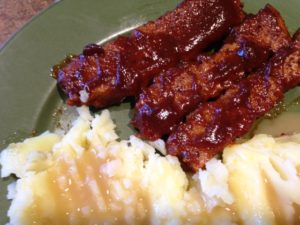 Why is it best to avoid grilling meat? 
Where do you get your protein?
Need help eating healthier? Contact me.