If you could change ONE thing….
Here are two questions for your consideration today:
If you could change

just ONE thing

about a health condition (or a weight issue), what would that be?                    and
How far would you be willing to go in order to achieve that change?
In my nearly 25 years of helping people with their health and weight issues, I've discovered that people are most likely to make dietary changes when:
they're awfully tired of taking meds (and never getting better)
they're totally frustrated with being heavy (while growing heavier each year)
a new medical diagnosis has caused them to be fearful of their future
It's sad – so terribly sad – because the majority of today's chronic ailments and weight issues are not only preventable, they are reversible. People are suffering needlessly, either because they don't know any better, they simply don't care, or they haven't reached one of the above tipping points.
Every week, I learn of more bad news. Stroke, hypertension, bladder inflammation, gut problems, and arthritis are the issues I've learned of just this week among my circle of family/friends – all of which are relieved or totally reversed by simply changing what's on the end of the fork.
If you've reached a tipping point, PLEASE consider switching to a whole food, plant-based diet to give your body the absolute best chance to heal. Give it 30 days. Heck, give it two weeks. Work WITH your body to heal rather than working against it. All with delicious foods such as sloppy joes, burritos, pasta, and mashed potatoes with gravy.
Join me in this online course, where you can learn the whys and hows of changing your diet. The course is designed for a 6-week transition, but you can always speed it up if you're ready to dive in. Work at your own pace in the comfort of your home, with access to me for questions, extra support, or whatever you need.
Once you get over the learning hump (with me at your side), you'll never regret doing so when you discover the many benefits and how much better you feel. Why change just ONE thing when you can change many!
Please join me. Nothing would make me happier than to help you achieve better health and hear YOUR success story. Check out other local success stories here. (Note: This course is complimentary to those at ICBC; please contact me at cydnotter@comcast.net.)
**********
Free shipping on the Award-winning book, The 'Plan A' Diet (through 4/30/2020).
If you're interested in the inside scoop, click here to receive the monthly newsletter.
Join our private Facebook Group!
Is it too late to start eating healthy?
Some folks are convinced they're health problems are a normal part of aging. Others believe that making a dietary change might be beneficial for some, but it's too late to benefit them personally because their weight or health issues are too severe.
Both of these perspectives are false.
It is never too late to benefit from a whole food, plant-based diet, regardless of a person's age, the severity of illness, and the length of time the person has been sick. (continue reading here)
So let's not allow ourselves to get fatigued doing good. At the right time we will harvest a good crop if we don't give up, or quit. (Galatians 6:9, MSG)
I'm here if you need help getting started – it's never too late to benefit!
Check out The 'Plan A' Diet book
Consider enrolling in The 'Plan A' Diet Transition Course
Check out the monthly newsletter
Receive tips and recipes on the weekly blog
Contact me (cydnotter@comcast.net) for a complimentary 21-day meal plan
Chocolate Vegan Cake – Yummy!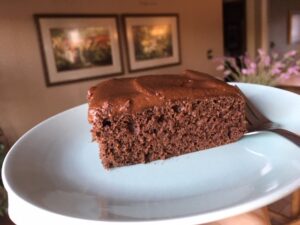 Can your recipe file handle one more chocolate cake? If so, let this be the one!
Chocolate Vegan Cake by Terri Edwards at www.eatplant-based.com is definitely going into my "keeper" file.
I made this simple cake for a birthday party recently, and it was a big hit. It's moist, chocolatey, delicious, and there's plenty of frosting if you'd like to pile it higher

For the sweetener, you have the option of using date paste (an easy recipe is included) or unrefined sugar (such as Sucanat, an unrefined cane sugar). You'll need a cup of mashed sweet potato for the frosting, which can be cooked quickly in the microwave.
This recipe can also be used to make cupcakes! Top with berries for a festive presentation.
Give this one a try. You won't be disappointed

Highlights from Dr. Greger's speech
Earlier this month, I had to pleasure to hear Dr. Michael Greger speak at the Charlotte County Veg Fest in Punta Gorda, FL. The event was held on a Monday in order to accommodate Dr. Greger's schedule, yet several hundred people were in attendance.
Here are my "take-away" notes from his presentation.
The body is a self-healing machine. When you hit your shin on the coffee table, it becomes inflamed and starts to heal. UNLESS you keep hitting your shin on the coffee table three times a day (in other words, eating the wrong foods for breakfast, lunch, and dinner).
Many who've suffered with diabetes for over 20 years and are taking shots can be off meds in just 16 days – even if they don't lose weight.
Smoking in the 1950's is similar to the Standard American Diet industry today. (NOTE: he did a long comparison on this topic; doctors then were smokers, and the majority of doctors today are eating poorly, which is one reason they don't promote diet change).
Society has to catch up to science. It takes a while, as with smoking.
There are 14 million deaths a year due to processed food alone. (compare that to Corona virus!)
Questions from the audience:
Is it OK to blend greens in a smoothie, or will we lose all the nutrition? Dr. Greger replied that we actually have BETTER absorption by blending, but the trick is to SIP your smoothie very slowly through a slender straw for best absorption. Don't gulp it down.
How much exercise do you recommend? 90 minutes of moderate exercise every day.
What about prebiotics? Good for gut bacteria, the brain, and immune system. A recipe to have "happy bugs" is made of black lentils, oat groats, rye berries, sorghum, millet, and other items prepared in the pressure cooker. (I believe he said the recipe is in his new book, How Not to Diet).
What is Dr. Greger's favorite food: Pawpaw fruit.
What about vitamin B12? Always purchase a USP Certified brand such as Nature Made. Take 1000 mcg of the Cyano type each day. (Cyd's note: That's higher than he recommends in "How Not to Die." There are many differing opinions on the topic of B12; read more here.)
What do you suggest for high triglycerides? De-flour your diet, except for pasta. (Cyd's note: I'm assuming he was referring to whole grain pasta, not the white/enriched flour varieties which spike blood sugar).
Why not add the award-winning book, The "Plan A" Diet to your collection as well? I'd love to help you get started with the healthiest diet on the planet.

Pop Quiz #4: Which of these oils contain the least fat?
Last week's pop quiz (which food has the highest saturated fat) revealed that one of America's most addictive foods is also the highest in saturated fat.
Today's final pop quiz (are you sad it's the final one for now?) deals with another topic that's crucial to good health. So put your thinking cap on, and remember that trick questions may come your way now and then (take the hint).
Question: Which of the following oils contain the least amount of fat?
a) Olive oil
b) Canola oil
c) Coconut oil
d) Corn oil
e) Sesame oil
f) Fish oil
g) Avocado oil
h) Peanut oil
(Jeopardy music plays as you ponder):
Well, let's see now…..
I'm familiar with most of these oils….
Hmmm….which is lowest in fat.
I'm going to guess it's _____ oil.
Answer: So sorry, it's another trick question ( I tried to warn you). The answer is that none of these oils are lowest in fat because all oils are 100% pure liquid fat. Oils are the extracted fats from vegetables, nuts, seeds, or fish, and all oils contain 120 calories per TBS and 14 grams of fat. Oils are known to damage the endothelial lining of our arteries (thereby paving the way for plaque formation), increase inflammation, and restrict blood flow as much as butter or lard.
Here's something that might surprise you, too: coconut oil is one of the worst. Not only is coconut oil 100% fat (as all oils are), but 92% of it is saturated fat. Coconut oils contains more than double the saturated fat as does pure lard. NOT good and definitely not healthy.
Oils are a real diet buster, too. Just adding 3 Tablespoons of oil a day (which isn't unlikely in the American diet) will lead to a weight gain of 3 lbs/month – without adding any bulk or nutrition to the food. Get your healthy fats by eating the whole foods, and not just the extracted fats. In other words, get your olive oil by tossing a few olives on your salad or pizza.
I can show you how to bake, sauté, and make salad dressings without the use of oils!