CHICAGOLAND TO SEATTLE ROAD TRIP – DAY 3
This is the recap for Day 3 of our Chicagoland to Seattle road trip extravaganza. Find the whole series from start to end here.
---
Day three promised to be a shorter day – which is what we told ourselves day 2 was going to be and then we failed miserably by seeing ALL the monuments in SD – because the number one thing Adam wanted to see on our road trip was Mt. Rushmore, and the number one thing I wanted to do on our road trip was take Nellie swimming in a hotel pool. Don't ask me why but the idea of a short day that ended with Nellie in a tiny bathing suit splashing in a pool for the first time was sometimes all that got me through 8+ hours in the car two days in a row.
We had three main goals for day three:
Eat lunch in Buffalo, WY where Adam's Grandmother was from and also where author Craig Johnson of the Longmire series found inspiration for his books. Side note, the show on Netflix is like Law & Order SVU but with cowboys so you should be watching it.
Stop at the Battle of Little Bighorn Battlefield.
End our day at a reasonable hour so that we could have time before Nellie's bedtime to take her swimming in the hotel pool.
But first things first, we had to play the game of, "put all the crap back in the car". We're getting better at this by day three.
 One of the weird things about the times I would be driving is I'd have all these moments where I'd think, "Oh, that would be a great Instagram story! My adoring public need to see this!" and I'd ask Adam to take a picture and then I'd hate it, and by the way we're driving 85 miles per hour so none of this was safe. So, I quickly realized that although switching off driving makes the day go a LOT faster, the happiness I was getting from sharing pictures on Instagram was more fun. It's the most insane thing I've ever admitted, but there it goes.
The infamous Sturgis, SD home of the insane motorcycle rally was really quite dull. I had expected it to be much bigger, and feel a little more motorcycle gritty!
Wyoming had this lovely quality about it where it had these big hills and mountains, but what butted up to the edges were these perfect farms. We saw antelope for miles and miles. We must have seen thousands of antelope in these perfect rolling fields that were surrounded by these picturesque mountain backdrops. It was such a refreshing view after so much flat in South Dakota.
Once we'd made it into Montana the landscape changed and suddenly we understood why Montana's called, "Big Sky Country." You can see for miles in the midwest, but there's something about that perfectly blue Montana sky, surrounded by mountains that's just different than anything we'd ever seen before.
Finally day three was done and we'd arrived in Billings, MT to perform our nightly ritual of unloading all the piles of crap to take into our hotel room. Why of why did we bring so much stuff?
FINALY! The main event! BABY BATHING SUIT TIME!!!!!!!!!!!!
I was so proud of our little fishy! She'd enjoyed bath and her kiddie pool, but we'd never taken her in a big pool before. She loved the water and loved when we swam her around and splashed and kicked. Poor thing got cold pretty quickly, but overall it was the little family moment I'd been hoping for, so check it off my road trip bucket list!
And just like that Nellie was asleep and Adam and I were relaxing in the other room watching Netflix and enjoying a well deserved cocktail before gearing up for a LONG day tomorrow. Billings, MT to Spokane, WA. 540 miles. Here we come!
The post CHICAGOLAND TO SEATTLE ROAD TRIP – DAY 3 appeared first on Accidental Olympian.
CHICAGOLAND TO SEATTLE ROAD TRIP – DAY 2
This is the recap for Day 2 of our Chicagoland to Seattle road trip extravaganza. Find the whole series from start to end here.
---
Day 2 was the ENTIRE reason our family took this road trip. The day that Adam would finally feast his eyes on Mt. Rushmore. You think I'm kidding, but ever since we moved to the Midwest Adam was obsessed with Mt. Rushmore. He wanted it, he needed it, he begged the family to take a vacation to see it. Driving to Seattle was finally his chance to cash in on the Mt. Rushmore glory. I was so confused, but I had agreed to ensure that we planned the trip so that we could all gaze at this mountain and wonder.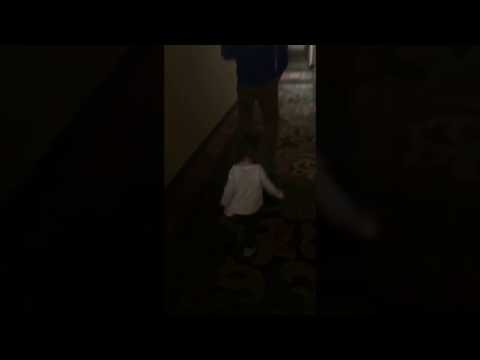 First stop on our day of South Dakota tourism was to pop over to Sioux Falls near our hotel. It was drizzling, freezing really, but DAMN IT WE SAW IT! And after being in the midwest for the last four years where there's no elevation change possible to create something as simple as a waterfall, seeing one in South Dakota showed us we were finally on our way back west. The land of elevation change!
So, check the Sioux Falls off the list. Only three more "SD must-sees" to go!
Nellie was less pleased with the falls as we were.
Oly greatly appreciated being in the car for day two. Sorry dog for nearly freezing you to death yesterday!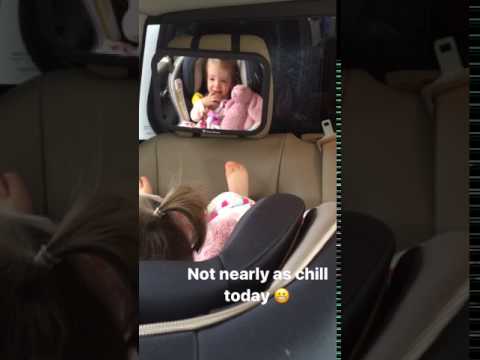 After a whole lot of flatness and dull extremely straight freeway driving (no seriously, we're talking hours of not a single curve in the road) we approached the Badlands National Park Scenic Loop! Since we weren't going to be stopping in the park we took a 40 mile detour drive that allows you to drive through the park, stop at a variety of trails and vistas and see all the interesting formations that make up the Badlands. I highly recommend you add this loop to your day if you're driving through. The Badlands are such an odd feature to appear all of the sudden in the middle of this flat nothingness that is SD. We took some fun walks, got out at some cool vistas, saw prairie dogs (!!!!!!!!!) and some big horned sheep. It was a really cool place.
One of the things too that is so interesting about South Dakota is that you're on this long, fast, straight stretch of road for hours at a time with hardly anything to look at but you're constantly being attacked by billboards. And not one or two billboards for a weird attraction, we're talking hundreds of billboards for a single attraction for miles and miles and miles.
There was Wall Drug which looked like the most odd and amazing place in the whole world, the Dances with Wolves 1800 western town, a dinosaur museum, and reptile world. Sadly, we made it to none of these oh-so-interesting SD attractions, but oh boy did we see ALL the billboards for them! South Dakota totally feels like the kind of place that would be a blast to drive through again with kids who were like 8 and 10 and would just get a kick out of these weird roadside attractions.
So nearing the end of the day we were finally getting close to Adam's whole mission. His reason for this drive. The one thing he'd been thinking of for the last two months while we packed. Mt. Rushmore!!!!!!!!!!!!!!!!!!!!
You guys, I have to admit, IT'S SO COOL! It's up in these beautiful mountains, with this cute little town that I am sure is just overflowing with tourists in the summer. But since we were there in late March it was empty, drizzling, and amazing to see. I totally suggest stopping here, or even making a trip of it. It's really an amazing sight to see, and the National Park has done a great job of setting up the area around the monument. Such a crazy piece of our country to see!
So by this point our "short day" had turned into a seriously long ass day, but we'd seen the Sioux Falls, Badlands National Park and Mt. Rushmore and we were so close to our final checklist, Crazy Horse Monument.
I have to say, seeing Mt. Rushmore and then going over to Crazy Horse is seriously disappointing. It's hardly finished, there's just a bit of a face in a mountain far, far, far away and a little museum. You can't get up close to the mountain in the off season, and it was overall really underwhelming.
You can't even tell, but his face is behind us there in the rock. That's how little is done (and they've been working on this since the 70's or something) and how far away it is!
Finally, after starting at 9am and ending the day around 7:30pm our "short day" was done. We got dinner in the hotel and Nellie was a trooper about being up yet again well past her bedtime. We finished up and put her butt to bed and got to work watching some comedy specials on Netflix. We decided that we simply couldn't do another long day the next day and we'd need an actual short day to rest our weary bones.
We called it a night with Billings, MT on our mind. Day three, here we come.
The post CHICAGOLAND TO SEATTLE ROAD TRIP – DAY 2 appeared first on Accidental Olympian.
CHICAGOLAND TO SEATTLE ROAD TRIP – DAY 1
While it is still mostly fresh in my mind I'm going to recap our road trip across the country during our move from Chicagoland to Seattle. Mostly because I love having the record from our other two relocations on the blog and I know someday I'll want to look back on this wild trip we took as a family. During the trip I took tons of pictures and shared them on Instagram Stories, most of which will be a reposting, with a little text for color/stories.  
---
Day 1 started with the CLUSTER that is trying to fit the remaining items of our entire life into the truck. House crap, our crap, crap that hadn't fit in the final container, crap we needed to live off for the road trip, crap we needed to live off once we got to Seattle, dog crap, baby crap, SO MUCH CRAP. The only way to accomplish this final packing was to send Nellie one final time to hang with our next door neighbors (who we already desperately miss). They had donuts, hung out, played, while Adam and I finished the hell that was packing the car.
Finally around 9am we were packed up and on our way. The goal was to make it to Sioux Falls, SD which was about 554 miles in total. We were going to start off our trip with a BANG.
Quick packed car selfie and we were on our way!
Girlfriend was a fan of the Beef Jerky Outlet. I mean who wouldn't love barrels and barrels of beef jerky and lots of people in camo?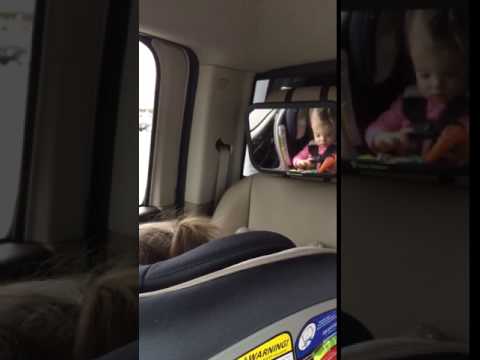 It was blustery, and boring, and so fucking flat.

Stopping here at the Super America gas station is where we realized that our original plan of having Oly in the back of the truck (under a camper shell) was not cutting it. She was cold, it was loud, and she couldn't see anything. Some quick rearranging in the bitter cold South Dakota or Minnesota wind (who knows where we really were) and Oly moved into the car next to Nellie. Everyone was happier.
Things got weird in SD… #AG4US. Around this point we stopped for lunch in a town that had about 30 people total. There was a gas station and a restaurant. The restaurant was clearly THE place to be as the whole town was there. Adam got a chicken fried steak that was to die for and it all felt extremely Americana. A very pleasing middle America moment.
Overall the day was so long, from about 9am-6:30pm with hardly a break other than some gas station stops and our lunch. It would be our longest day with the least stops overall and Nellie KILLED IT. She played with her toys, ate tons of snacks and we got hardly a peep out of her. By the time we made it to the hotel it was madness trying to unpack the cluster that was our car, drag it all into our room and get Nellie dinner before a meltdown, but we did it.
Our big takeaway from the trip was we always rented suite hotel rooms so that there was a bedroom with a door we could close, and a separate room for us to watch tv in once Nellie went to bed. I will never stay in a hotel with little kids any other way. Being able to put Nellie to bed around 6:30 and then be able to eat, watch tv, and generally not lay there silently in the dark for hours made 4 nights on the road bearable. Thank you to whatever parent randomly had passed that tid-bit onto me. I can't remember which of you did, but you're my fucking hero.
Just like that it was the end of day one. We'd made it 554 miles from our old home in Chicagoland to Sioux Falls, SD crossing through IL, WI, MN and SD. The next day would be our "short" day, our tourist stop day, and it wouldn't disappoint!
The post CHICAGOLAND TO SEATTLE ROAD TRIP – DAY 1 appeared first on Accidental Olympian.








Related Blog Posts
18 DAYS & COUNTING
18 days. Only 18 days left until we pile in the car and head West. Currently the following is giving me heart palpitations:
Adam will be traveling for work 6 of these 18 remaining days.
Our entire three bedroom home with a full garage of crap and an entire basement full of more crap still needs to be fully boxed up and ready to be loaded into a 17 ft container being delivered to our driveway on March 18th.
It is impossible for me to help Adam pack very well when on the weekends I am usually wrangling the baby, and Adam is doing the packing. I would say at this point we are about 1/4th of the way fully packed. This means there is still a LOT of packing. A lot.
When the container arrives Adam currently has planned to load the entire thing with every single one of our belongings, 100% by himself. I am extremely concerned that this will likely kill him. He temporarily believes he is The Hulk. I am scared.
Beginning on March 18th I will no longer have any of my kitchen, most of my clothes, or even my furniture. For the week following the 18th I will live like a squatter in my own home. This does not excite me.
I just booked the shipment of my car to Seattle. They plan to take my car from me the week of the 20th. Which means somewhere in our final week in IL I will not have a kitchen, most of my clothes, any furniture, or a car. This also does not excite me.
After stressing about my job search for essentially the entire month of February, suddenly the job gods smiled on me and the interviews have been pouring in! This is wonderful, exciting news, but it is also exhausting. I am currently in process of interviewing with about 6 different companies. All of which could still result in exactly zero job offers.
I recently began researching daycare locations in our new Seattle neighborhood and quickly realized two things. #1 – that there are very few traditional daycare locations in Seattle (which I found really odd), and #2 – that they all have 1-2 year waiting lists. I SHIT YOU NOT. One location asked me if I would like to signup for their 18+ month waitlist. Nellie will likely be able to speak in full sentences by then. I think I'm gonna need somewhere else for her to go in the meantime, thankyouverymuch!
My attempts to convince Adam to rent an RV for our drive from Chicago to Seattle have fallen on deaf ears. I even went so far as to call Cruise America just to see what renting an RV for our drive would cost and I was SHOCKED to find it was going to cost a grand total of only $386 dollars and we'd get a $250 gas gift card. I am not making this up! Apparently they make all the RVs in Chicago, so in March and April Cruise America is basically begging people to help them get all these things to the west coast before summer. Even this, finding out that it was going to essentially be cheap as hell I still can't get Adam on board. This shocks and saddens me. The idea of having a mobile bathroom, kitchen and living space for us and not having to A. live in a car cabin for 5 days, and B. schlep ourselves in and out of hotels all week long sound SOOOOOO good, and yet, Adam refuses. He's trying to kill me with this move. Why does he hate me so?
So basically I'm drowning here a wee bit and as much as I feel like on one hand I need more time to get everything done, on the other I'm over it and I just want to leave tomorrow. I thought having 2.5 months to pull off this move was going to be easier than our previous 3 week rush moves, and now I'm wishing it all would just hurry up already. I know from previous experience that it will all work out and before I know it I'll be pulling into our driveway of the new house, but until then I'm struggling a wee bit and often attempting to live in complete denial of what all needs to still get done.
Help us. Please.
The post 18 DAYS & COUNTING appeared first on Accidental Olympian.
RELOCATING TO SEATTLE IS TRYING TO KILL US
Obviously Adam and I knew when he got the job in Seattle that picking up our lives in Chicago and moving them across the country would be difficult. But remember, this isn't our first rodeo. We've relocated from Olympia to Anchorage, AK and then from Anchorage to Chicago. Picking our lives up and moving to the other side of the country is something we're not only familiar with, we considered ourselves to be kind of good at. But then this relocation happened. Our final relocation that is attempting to destroy us.
Maybe it's because there are so many more moving pieces this time? Maybe because previously we did the whole move in under three weeks, and this time we had almost two months? Maybe we just are old and less flexible? I don't know what it is about moving to Seattle that's making it feel so unlike relocations of the past, but it has been a bit of a doozy.
This week Adam went to Seattle for work and to also find us somewhere to live. I stayed home with Nellie because A. flying across the country for 4.5 hours with a lap infant is never fun and should always be avoided if you can, and B. I don't have any time off work. I was bummed that I wouldn't be able to see the places we'd maybe rent, but I trust Adam's judgement and it had to be what it was going to be. We had hired a relocation assistant to book homes for us to view and it had taken a HUGE stress of my plate seeing as the Seattle housing market is absolutely bananas right now and homes are renting and selling faster than I've ever seen. Adam received a detailed itinerary of the homes he'd view, the times to arrive, and little details about the various properties. It felt so neat and tidy and wonderful.
And then I reviewed the properties. One didn't have a garage (SCRATCH THAT), another only 900 square feet with a single bathroom. Suddenly our list of 8 was down to only 6. The first house Adam arrived at stood him up. Strike one. The second house was lovely, but as he left the house driving 45 miles an hour on a busy road someone pulled out directly in front of him and he T-boned the driver. His rental car was totaled, his shoulder jammed up and in a lot of pain, and he clearly was no longer making his next appointment. Strike 2. After meeting with the police, getting a tow truck, talking to workmans comp and getting a new rental car, my determined (and possibly crazy) husband was back at it. He viewed two more houses that day, went to the doctor, and we put in an application on a home. There were two other people already with applications in, so even this wasn't guaranteed. Adam and I went to bed that night out of houses to see, with nowhere to live. I began texting friends frantically asking if we could live with them for a few weeks until we found something. We were panicked. Strike 3.
Meanwhile I am at home with a child who apparently caught the plague and is on a mission to have me attend work never again. The kicker too is my mother had offered to come stay with me this week while Adam was away and I had told her that it was no big deal, Nellie wasn't even hard to handle by myself and she should save her money. What the hell cosmos? Not a funny joke.
Adam and I talked on the phone and wondered why in the world this relocation was so much harder than others. We had wanted to come back to Seattle for the last 8 years, and it was finally happening and yet Seattle wanted to make this experience as hard as humanly possible. Things had begun to look pretty bleak.
Thankfully we finally had a win. Bruised and broken Adam went and viewed a little home in West Seattle Thursday morning and called me a half hour later in a complete huff. He loved it. He said it was perfect. It had a huge deck with views of downtown Seattle and Mt. Rainer. It had a hot tub for crying out loud! There was an office for him to work in, a new kitchen, and a fenced yard for the dogs. We had dreamed so many years ago of living in West Seattle, but we'd never expected it would ever work out with the housing market in such a crazy state. We put in our application, were accepted, and that night Adam handed over bundles of cash to secure our little piece of home in West Seattle.
We'd never imagined we'd actually have a Seattle address again. That we'd be so close to the things we'd loved about Seattle so many years ago. I never thought I'd be able to bike to the Puget Sound, walk to a farmers market, take a short Uber to a baseball game, pop over to my friends homes without it being a huge production. We'd accepted a long time ago that we'd live deep in the burbs, that we'd work a little harder to explore Seattle, and now we've been given this amazing gift. Now as we reconnect with Seattle we won't do it from afar. We won't be outsiders wishing we were close. We'll live in the city once again and I'll make dinner in my new kitchen looking out a wall of windows at the Puget Sound. A view I fell in love with when I was 17 years old and decided I'd make Seattle my home.
There is still so much ahead of us with packing, shipping cars, and you know, driving across the country, but I'm so excited I have this view to dream of. I can already taste that glass of wine on my deck, and you're all welcome to join us. Door is always open.
The post RELOCATING TO SEATTLE IS TRYING TO KILL US appeared first on Accidental Olympian.