MY FAVORITE HOLIDAY CARD OPTIONS FROM PAPERLESS POST
I hadn't heard of Paperless Post until I was planning my wedding and looking for beautifully designed, but reasonably priced Rehearsal Dinner invitations.
Since that original order I have gone on to use Paperless Post to send online birthday cards, to create baby shower invitations, a birthday party invitation for my mother's 60th birthday, and countless times where I've utilized the ability to fill out details online and have a physical card mailed to someone for a thinking-of-you or birthday. The fact that I can print a single card for someone, print massive amounts of cards for a big event (with an awesome online RSVP management section), or just shoot off a free birthday card through email has made Paperless Post my go-to card company over these past years.
This year I've already started daydreaming of my next use for Paperless Post – 2017 Holiday Cards.
To help you get inspired as well I've rounded up some of my favorites below. I'm always drawn to photo cards personally, and I love that Paperless Post has a variety of designs as well as a ton of different layouts and options for my cards. I always like to start collecting my holiday card ideas on Pinterest in the fall so that if I find a layout/style that I like I can start thinking and planning for that picture we'll use each year.
Here are some of my favorites for this year:
I know it's not even Halloween yet, so if thinking about your Holiday Cards gives you the creeps, don't fret. They have tons of cute Halloween cards too!
---
This post is made in cooperation with Anagram Interactive and Paperless Post. All thoughts, feelings, and content are my own. 
The post MY FAVORITE HOLIDAY CARD OPTIONS FROM PAPERLESS POST appeared first on Accidental Olympian.








Related Blog Posts
MY FAVORITE CHILDREN'S BOOKS FOR TODDLERS
Nellie didn't really enjoy reading until she could walk and she'd walk over to us, turn, sit in our lap and ask us to read for her. Even then she'd only really let us read one or two pages before she'd slam the book shut and say, "All done!" Over time though she's gotten more and more into her books, and now she'll actually sit in our laps and let us read an entire book (shocking!), will sit and flip through a board book on her own (so cute), and will actually let us read her longer picture books before bedtime (finally!).
That being said, as far as we've come in our book journey there are definitely winners and losers in the world of children's books. Here are some of the ones I'm currently enjoying. If there are ones you really love reading your littles, please leave a note in the comments! I'm getting a little over our current selection and would love some new options.
Octopus Opposites has been one of the earliest great loves for Nellie. The colors are bright and bold, the book is catchy, and the board book is super sturdy and has held up to Nellie's nonsense.
Tons of Trucks is a total winner! Adam picked this one up at a garage sale and Nellie is currently hooked right now. Each page has something to twist, twirl or pull and Nellie finds it super engaging. We brought it with us to a restaurant the other night and it actually entertained her! Clearly it's magic.
Everything Sandra Boynton writes is amazing and fun. Nellie's favorite (and mine too) is Dinosaur Dance, but we own quite a few of her books and they're all super fun.
Alphaprints: ABC is one of my favorite alphabet board books. I love the way that alphaprints books create each animal by using a textured fingerprint. The way author Roger Priddy uses fingerprints and unusual objects (carrots for horse hair, flowers for penguin eyes) is super fun. Nellie likes the textured design of the books, and I love the creativity that went into creating the characters and animals.
Girlfriend loves Cleo's Color Book. Bright engaging imagery that helps little ones learn colors and shapes. It's definitely not a very complex children's book, but the simplicity and the great colors make it a favorite of Nellie's.
That's Not My Puppy is only about 5 total pages, but from the earliest days Nellie has loved this book. She also has That's Not My Dragon and there are tons more. Bright colors and fun textures make these books early crowd pleasers.
This is the sweetest little bedtime children's book. I'll See You In The Morning is the absolute perfect book to read before bed. No matter what book we read first I like to finish with this sweet story. I hope the older Nellie gets it will continue to be one of her favorites.
It's Time To Sleep My Love is both a visually and lyrically beautiful book. I love reading this book to Nellie before bed. The images are absolutely stunning, and the story is one that calms and soothes Nellie. I absolutely love this book and it will be my go-to baby shower book gift from here out.
Z is for Moose is HILARIOUS. I love moose and so quite a few of my friends gifted me books featuring moose at my baby shower and this one makes me laugh every single time I read it to Nellie. All the moose wants is to be featured in the darn book, and that damn Zebra is trying to hold him back! I actually really love doing the voices for this book and I can't wait till Nellie actually gets the joke!
Another moose book I am obsessed with. The Moose Belongs to Me is a funny tale of a little boy who thinks he owns a moose, but quickly realizes his moose friend is not ready to be owned by anyone! The artwork is beautiful and the story is really playful and fun.
And last but not least, S is For Seattle! We owned C is For Chicago while we lived in Chicagoland, and good friends gifted Nellie S is For Seattle when we moved to Seattle this spring. The pictures are so bright and engaging and it is so fun to walk through the alphabet seeing our favorite parts of Seattle come to life! Quite a few major cities are represented in this series so get yourself one!
Hope there are some gems in there for you, but more importantly please tell me what are your favorites so we can add to our collection!
Happy reading.
The post MY FAVORITE CHILDREN'S BOOKS FOR TODDLERS appeared first on Accidental Olympian.








Related Blog Posts
ANOTHER YEAR, ANOTHER 4TH OF JULY IN BEND, OR
Last year when Nellie was only 6 months old we got on a plane at some terribly early hour, flew across the country, experienced layovers and two different flights to come spend the 4th of July in Bend, OR. It was totally worth it, but it was one LONG ASS TRAVEL EXPERIENCE.
Overall though it was so fun to spend the 4th in Bend with little Nellie that we decided this year to make it a tradition. The best part though being that this year we could just drive down. No more 12+ hour travel days with a baby in our lap. This year we packed all the crap you need to travel with kids in the truck and 7ish hours later we were in one of our favorite places, Bend Oregon.
I fell in love with this yard when I was dating Adam, got married in it four years ago, and still can't get enough of watching Nellie explore and play here.
The first full day in Bend we decided to kick off our vacation by heading to East Lake for some kayaking, fishing, and general fun on the lakeshore. East Lake is the most picturesque alpine lake surrounded by beautiful pines and mountains. There are great campgrounds around the lake I definitely want to come back at some point to stay in, and the beaches on the lake are spacious and inviting.
Last year we had a 6 month old who was just starting to crawl and I had to try to entertain her in the little sunshade and keep rocks and sticks out of her mouth. It wasn't exactly a good time. This year though we let Nellie play with her Grandparents and our niece and headed out in the kayak. Adam fished and I trailed my hands in the cool water and just took a damn deep breath.
As I mentioned on Instagram, one of the things I definitely struggle with is the appearance of having control when it comes to parenting. Parenting has so little you can control, and sleep has always been a trigger for me for my anxiety. For almost the first year of Nellie's life I tracked every minute of her sleep with an app. I was obsessive about wake time between naps, length of naps, bedtime and amount of sleep at night. Sleep felt like a rule I could follow, there were actual guidelines with real numbers I could track and maintain! But as any parent knows, even sleep isn't actually something you can control. It's about as out of control as it gets! As Nellie has gotten older I've simmered on my control with sleep, but it's still a trigger for me. And something like missing a nap so we can be at the lake is hard for me. My impulse is to never stretch bedtime, to makes sure to be home for naps, and to keep a schedule that allows Nellie to get the "right" amount of sleep, even at the expense of the rest of our sanity.
Thankfully Adam is there to challenge my crazy and to remind me to chill the ever loving fuck down. Did Nellie nap at exactly 12 this day? Nope. Instead did I go on the kayak while she played in the lake with her Grandparents? Yep. Did she totally 100% survive without a care in the world or even a single fuss? Yep. Did she fall asleep on the drive home? Indeed. Was she totally ok and have an awesome day? Most definitely.
It's a struggle for me, letting go, being flexible, but I'm trying. And I'm so thankful when I listen to Adam and I do because then we all have days like this. A day I would have missed if I was beholden to a fucking nap.
One of the other great differences this year was our "annual" trip to the Sunriver Resort pool, the "SHARC". Kiddie pool, sand play area, crazy spray park, lazy rivers, slides, you name it it's here! It's busy as all get out, but it's so much damn fun. Last year Nellie was this tiny little 6 month old thing that basically just sat in the shallow end where we put her in the baby pool and kinda splashed around. We didn't even bother swimming with her in the deeper sections, and in about 20 minutes she was cold. It was cute and all, but overall pretty underwhelming.
This year though girlfriend had her 4th of July suit and she was ready.
She loved the kiddie pool this year, walking around, playing with toys, splashing and exploring. We took her into the deeper part of the pool too to swim around, kick her feet and experience real swimming, and overall she just enjoyed herself so much more. To see the change in one year and think how much more fun she'll have each year after year was so fun. Looking at those kids around 4 years old just losing their minds made me so excited that this place is something she can always look forward to. Before I know it I'll be hanging in the lazy river with her!
AHHHHHHHHHH "SUP life" as Adam calls it.
One of the biggest things Adam wanted to do again this year was rent stand up paddle boards. We took our first ever trip down the Deschutes last year with our niece and it was a total blast. This year though we snuck in two trips – one 6pm sunset float, and then a second the next afternoon. It was so amazing to let the Grandparents have some time to bond with Nellie while we got some much needed adult time. Floating on the river with tasty beverages, talking about whatever, laughing, dreaming about future plans, congratulating ourselves on being so smart to move back here, doesn't even matter.
We had had two options that first night. Either leave Nellie with the Grandparents and go to a bar for a date night, or take out the paddle boards, and Adam pushed for paddle boards. It ended up being such fun to do a sunset paddle down the river with our tasty beers, timing it just perfectly to get out around 9 as the sun slipped behind the mountains. Definitely something we needed in so many ways.
The next day we did a mid-afternoon float that lasted almost 6 hours as we tackled a different section of the river we hadn't traveled before. This time our cooler was even bigger than before, full of more tasty beers, cocktails in our new Hydro Flasks, lunch and snacks.
The temperature was low 80's, slight breeze, and just hours of floating, relaxing, beer drinking, house viewing, and general amazing relaxation. The great thing about the Deschutes River is that it's extremely lazy, so you can stand up on your boards and paddle, you can paddle on your knees, sitting cross legged, or even just lay down completely flat on your board and let the river take you. For long stretches of river we'd just lay our paddles across our boards to link ourselves together and then just float.
The whole time we just kept being like, "Oh so-and-so would love this we have to make them come with us to Bend and do this with us." I think over the course of this single float we decided everyone we know would love this and they must come to Bend with us. So, basically if you're reading this, join us in Bend next time! You'll love the float. I'll bring the beers.
We probably spent half of the 6 hour float like this. And shockingly we never ran into a single thing!

At a certain point near the end we got pretty hot and dared each other to jump in. I stood up and went to jump, and mid, "1, 2…" I fell in. It was super graceful and I had to repeat my jump out of shame for my fall. The water was cold as hell but it felt amazing. 
Take two! Much better dismount. 
I was so shocked that Adam actually jumped in. Adam will NOT swim in any dark water (river, ocean, lake) no matter how hot he is, and apparently he is capable of getting too hot and drinking just enough beers to make him brave. Always learning something new about your spouse! 
Our final super exciting Bend adventure was our 2nd annual appearance at the Bend 4th of July Pet Parade! When we got married four years ago in Bend I was having my hair trial in downtown Bend on the 4th (we got married on the 6th of July) and all of a sudden in front of my salon all these people and animals began parading by! There were dogs and bikes and cows and horses and it was so fun and small town! I vowed to come back some day with my kids.
Flash-forward to last year and we brought Nellie to her first ever Pet Parade! I had an outfit, she had an outfit, and even for a little 6 month old it was a super blast! So I was really looking forward to this year since Nellie is so much more aware. Again I picked out the perfect outfit and away we went!
Once again the parade did not disappoint. Everyone in attendance from the people in the parade to the people watching were in their most decked out 4th gear. Nellie loved watching all the dogs go by, it's fantastic people watching for both an 18 month old and a 32 year old! It's really an awesome family event and I plan to make this a family tradition. After the parade it's always fun to walk through the festival in the park, dip your toes in the river, and walk to one of the local breweries for a beer and a bite to eat. Overall it's just a super fun way to spend the 4th!
We stayed almost a week in Bend, and once again it was over before we knew it. Thankfully though this time we didn't have to worry about when the next time would be that we'd fly ourselves all the way across the country. We'll be back in late September for a family wedding, likely back again in the winter to play in the snow, and again however many times we want in the spring and summer to enjoy all the amazing outdoor adventures Bend has to offer.
Bend is one of my favorite places of all time and I'm so glad that I get to keep bringing my kids back here and watching them fall in love with it like I have.
Or the little brats will say they hate it just to spite me and I'll still drag them here constantly because I'm the parent and I said so. That's why.
The post ANOTHER YEAR, ANOTHER 4TH OF JULY IN BEND, OR appeared first on Accidental Olympian.








Related Blog Posts
FIRST HIKE IN WASHINGTON WITH A BABY! – WALLACE FALLS STATE PARK
A while back we had bought a baby hiking backpack/carrier with the hope of diving into this new Seattle life with tons of hikes with Miss Nell. But then we got here, and unpacking took FOREVER (honestly we're still not fully unpacked) and it just kept getting pushed aside.
But finally we made it a priority to break out the carrier and wander into the woods. I used the Washington Trails Association website and found a trail that would be close enough, interesting enough (I like hiking where I can achieve something) and not too hard for our first hike. So we settled on a hike in Wallace Falls State Park.
It was absolutely perfect. From the lovely weather, to the perfect mix of difficult portions to make you feel like you're working for something as well as calm spots along the river it was a great first hike for us as a family. The hike was definitely pretty packed as it's pretty close to Seattle, but overall the extra people weren't an issue at all.
The whole point of trying something new with a kid is to work out the kinks, and here were some of our early lessons:
Don't roll into the trailhead at 10:30am – set alarms. Get up early and get out the door!
Pack, like actually pack things the night before. We said we packed the night before but we basically just got the bags out. To pack with kids we need that shit 99.9% done right when we wakeup.
Feed the baby breakfast in the car on the way. Waiting for Molasses Jones to finish her breakfast was not ideal.
Trekking poles! The person wearing the baby definitely needs trekking poles for added stability.
Carrying a baby on your back gets EXTRA hot. Using the camelback in the carrier next time for Adam.
Adam and I need dry-fit shirts. How did we go this long without them while living in Alaska?
Extra clothes for the baby! Of course Nellie blew out her diaper right when we arrived at the trailhead, hence her sweet Valentine's Day pants in all the pictures and awesome matched purple shirt.
 2 times as many snacks for Nellie. Keeps her busy and entertained.
Need to experiment with ways to enable Nellie to nap in the carrier. I think we can lower how high she sits in it so she can rest her head. We tried to give her shirts and such to use as a pillow and she just wasn't having it and didn't nap till we got to the car when she was clearly tired. Tips welcome!
And lastly, I need to have a bigger hiking backpack. Although the carrier we got has TONS of pockets, it's not fair to have Adam carry Nellie plus all our lunch and water and crap. My tiny little 1 person pack isn't going to cut it if I'm going to carry the family's crap while Adam carries the kid!
So clearly, we learned some things for next time, but it was a blast being out there more than anything. It was a perfect time to test the new gear as well as dust off all the hiking gear we'd owned in Alaska that has set dormant while we lived in Illinois. I'm already planning our next hikes and our next adventures. The goal is one hike as a family each month all year long, rain or shine.
Let's see if we can do it!
The post FIRST HIKE IN WASHINGTON WITH A BABY! – WALLACE FALLS STATE PARK appeared first on Accidental Olympian.
NELLIE JONES – 18 MONTH UPDATE
I recently saw an Instagram post by a new mom that said something along the following,
The first 12 weeks with a newborn are the hardest, of those first 12 weeks the first 6 are the most difficult, and of those first 6, those first 3 are the hardest thing you'll ever experience.
I don't know why, but it sometimes helps me to remember where we've come from. To know we've come from this,
This thing that can do literally NOTHING, to this,
So that I remember what it's like to know 18 month old Nellie forever I want to put down some of her quirks, moments and memories here so I can remember them when I'm old and grey.
WHO IS NELLIE JONES?  
Omg this kid and dogs. "Dog" was her first word, so it should be no surprise that she's obsessed with dogs, but it warms my heart. Oly is not exactly her favorite of all the dogs in the universe since she's usually in the way, licks her too much and tends usually to suck, but still even with her flaws Nellie finds a soft spot for Oly. In the morning when she gets up she'll hear Oly shake or stretch, and Nellie will exclaim and point, "DOG!" Or her new thing, when we come home and Oly greets us Nellie is trying to say, "Hi Oly," but really it comes out, "Hi-O". Which is just as adorable as it sounds. Even more precious though than loving Oly and pointing dogs out in every book, paper and pamphlet is how she warms dog owners' hearts everywhere. Any time we take a walk Nellie will spot a dog from 3 blocks away, point and yell, "DOOOOOOOOOGGGGGG!" Usually then the owner notices how excited Nellie is and Nellie responds by waving her arms excitedly the closer the dog gets and actually squealing with delight. No matter how stone faced the person walking towards us appears at first, by the time we've passed them they have a HUGE smile on their face. Nellie brings joy to random dog walkers everywhere. Recently I took her to a popular dog park on the weekend and it was like I took her to Disneyland. She was so overwhelmed by the awesomeness of so many dogs running and playing that she was speechless. Eyes wide, mouth open, she couldn't believe her luck. So. Many. Dogs. I couldn't stop laughing. Someday she'll be a dog hoarder, or dog rescuer, and she'll make her mama so very proud.
This love for all things dogs also has translated to her deep love for the show Mutt & Stuff. Oh dear how this child loves Mutt & Stuff. I think we came on this show by accident, but once Nellie saw that Cesar Milan's son was leading a dog school full of actual live dogs that dress up, go on adventures, fetch, jump, bark and SING and DANCE she was hooked. We can't even say the full show name anymore out loud without her demanding to watch the show so now Adam and I refer to it as, "M&S". If it is dare mentioned Nellie will begin saying, "Mutt" which actually sounds like, "Muh. Muh." over and over while sitting on the couch demanding her programming. We have gone on to introduce this show to anyone who will listen, and have created a few more hooked kids in the process. Which is great, because as far as kids shows go, I'm a fan of well trained dogs myself.
My-oh-my, my little outdoors wild woman. She hates after coming home from school that she has to walk through the front yard and come inside. If she had her way we would come home from school and play in the front yard until she passed out in the grass. She loves running over uneven surfaces, racing down the walkway, digging in the dirt, looking at the flowers, touching the leaves of the tree, and just generally standing outside. Similarly on the back deck where our hammock, water table and slide are, girlfriend is in heaven. Her new favorite thing to do is lay in the hammock all by herself – she's a big girl you guys – and have someone rock her. She closes her eyes and has this look of complete chillness and I can't stand it it's so damn cute.
Nellie's relationship with food has changed a lot in the last handful of months. Our kid who ate everything has started to show signs of that toddler picky nature, which makes my heart sad. We continue to offer a variety of items, but her preferences are beginning to form. The report I get daily from daycare clearly shows she is NOT a fan of veggies – never eats the green beans, cauliflower, broccoli, zucchini, etc – but will happily eat things with sauce, cheese, and carbs. Really, I think if she had her way she'd eat like her Grandmother and it would be an all snack meal, all the time. If she could live off puffs, bars, strawberries, pickles, baby cookies, and cheese crackers she'd be happy. Because we attempt to be good parents, we do not let her fulfill these wishes.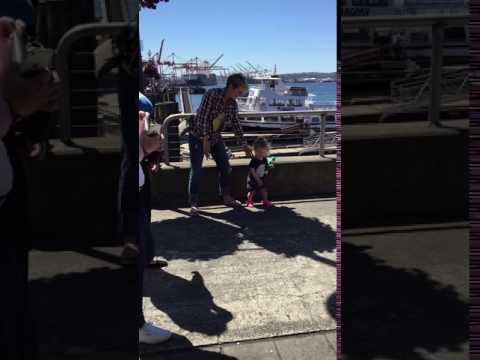 Dancing is a new fun thing for Nellie these last couple months. While my parents were visiting last weekend we were waiting for our table for lunch and my mom took Nellie outside so she could walk around. There was the smallest little speakers near the restaurant playing the softest music. And yet, girlfriend was feeling it. She entertained many diners by dancing to the beat, not a care in the world. Since she seems to be getting into music more and more we've been trying to have it on in the background at home, and the other morning Adam had his full playlist on random (which gets REALLY random) and I come around the corner to see Nellie dancing her ass off to Ludacris, 'You'z A Hoe". I mean, I'm raising that girl right!
Nellie's cognition and vocabulary have been really going crazy lately, and I swear every week we realize she knows a few more words. Here are some of the ones she's saying now:
Hi
Bye
Dog
Milk
Water – WaWa
Cheese
All Done
Uh-Oh
More
Shoe
Slide
Hi Oly – Hi-O
Love You
Thank You – which sounds like, "tan-yuuuuu" and she says for EVERYTHING which is amazing. We have the most polite 18 month old on the planet and I can't stand it. Hand this kid anything and she'll thank you.
Boat
Truck
Banana
Apple – She can repeat it when prompted, but can't say it on her own yet
Ball
Mutt & Stuff – "Muh. Muh"
My favorite thing too is to ask what noises various animals make. She can make the sounds for dog, cat, horse, cow, sheep, and any other animal just sounds like a yell of some sort which is adorable and lovely. I try to ask her weird animals to stump her. Because I'm a terrible person.
One Nellie-ism that remains true no matter her age is her deep love of books. Girlfriend LOVES her books. Sure, sometimes she'll crawl into your lap to read a book, let you read one page, close it and say, "All Done" and walk away, but she's there. Reading. Ready for you. She'll likely go find another book, sit down and make you do the same thing, over and over till you think you'll die, but it's for literacy, so you do it. Our new bedtime routine is to read 2 books, sing a song and go to sleep. Nellie has realized that we stack the books to read on her side table, so when I tell her to go get her books for bed she'll pile like 12 books there thinking she can pull one over on me. Nice try kid. Her taste in favorite books shifts every so often and when I just can't read Charlie Brown's Pumpkin Adventure another time I'll hide it and see what new gem is our book of the moment. Currently books are in my bathroom, living room, kitchen, her bedroom, my bedroom, and the car. They are everywhere, and you WILL read to her. But I love it, even when I roll my eyes at the same terrible book yet again, deep down the book nerd in me is so damn pleased that she loves books as much as I do. I can only hope when she's 10 she refuses to speak to me and simply sits in her room reading all day. A girl can dream.
I feel like I could write a million pages about who Nellie is right now. How she still needs help walking up and down the stairs to our house and pauses and looks at you with her hand outstretched so you can help her. How she loves to sit in her moose Nod Chair, the way she babbles in the morning when you get her dressed, how terrible she is at brushing her teeth, the way she has learned to squeal and run with her chest forward and arms back like she's crossing the finish line at a race. How she's developed anger issues with her changing table and wants to be laying on her front for diaper changes. The way she tries to run away from me when I tell her I need to fix her wild homeless lady looking hair. How no matter what state she goes to school in, she will come home from daycare looking like this.
Her all consuming love for stickers. How much life has changed since Nellie started taking showers with me. Hanging out while I shower playing with her toys, and then I fill the bath with her and she gets her bath. It's our special time together and she just seems both so big and so small at the same time. How after not seeing her Pop-Pop since she was 9 months old she saw him last weekend and took to him like he was her favorite friend in the world. How she almost has ALL her baby teeth and looks like a little shark! How she giggles like a manic when you give her raspberries on her belly, or how no matter where she is or what she's doing, if you ask her where her belly is she will stop and lift her shirt to show you exactly where her belly is thankyouverymuch. The way you know she's done eating because suddenly her milk and her food is all on the floor. Arg. The way she has a shit ton of toys but only loves 2-4 toys at a time, changing preference every couple weeks. How she can stack her wooden blocks almost 8+ blocks tall, and then cries out with such glee when she nocks them all down like King Kong.
I could go on and on and on about this kid. Sometimes we see that toddler in her, and it's terrifying. She's strong willed, with big opinions and a loud voice, but she's also sweet and loving and gives her dad eskimo kisses (if she feels like it) before bed. There are times, like when she's just NOT into it where parenting her can be a challenge, but there's also days like yesterday where we played stickers for 20+ minutes and practiced saying different fruit names where I feel like I can see the glimmer of her at 2, 3, 4 or even 5. Talking and having ideas, playing make believe and coloring.
18 month old Nellie is big and bold and exhausting and sweet all at the same time. And I think I'll keep her.
The post NELLIE JONES – 18 MONTH UPDATE appeared first on Accidental Olympian.