| | |
| --- | --- |
| | |
---
Monday Muse - Lace Doillies Cards
My husband's eldest aunt (age 97) passed away on Mother's Day.  To make a sympathy card for our cousins, I pulled out the Thoughts and Prayers stamp set, the Falling in Love Designer Series Paper AND the Lace Doillies.  Claire Daly inspired the card.
For the frame around the greeting and the floral image on the inside, I used the new 2017-2019 In Color, Powder Pink.  However, I wanted just a hint of pink, so after inking the stamp, I stamped it off once and then onto the card.  The greetings were stamped in Archival Basic Gray.
The Falling in Love Designer Series Paper is cut 5 1/4" x 4", so I was able to cut (6) out of a 12" x 12" sheet.  It is always good to have extras on hand, but having alternate choices is better!  So, I made the same layout as a thinking of you/get well card.  However, I changed the layout for this Praying for You...card.
Then I decided to use the same layout but added some bling with the Falling in Love embellishments and a bow on this wedding card.  The greeting is from the Rose Wonder photopolymer stamp set.
 If you really like the Falling in Love suite products, you'll need to order them by May 31, as they will not be in the new 2017-2018 Annual Catalog.  Except for the discontinued ribbon I used, all the other products will still be available for the next year.
 Here are some links to help you:
Thanks for stopping by and have a blessed day!
Friday Find - Folded Gift Card Box
I found this gift card folder in my mom's craft room along with many other creations by my sister, Denise Jorgensen.  Mom always helped her with the annual stamp camp in Renton, Washington.
It was created for note size cards with one piece of Designer Series Paper (DSP).  The inside shows the fold and flap.
I did find a video tutorial about a month ago, but did not bookmark it, so went searching on Youtube again and finally found one by an Australian demonstrator using the new Eastern Palace Designer Series Paper that is available in 2 bundles this month, until May 31, before the 2017-2018 Annual Catalog goes live on June 1.  Caroline made the note card size and her flap is different but the folding of the DSP is still the same.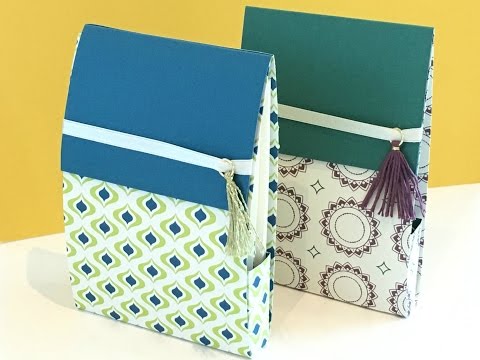 I decided to make these for the stampers at my May class with some of the retiring Designer Series Papers, but resized it to accommodate 4 1/4" x 5 1/2" cards with envelopes.   Here's the first one in Cucumber Crush.
Score the 12" x 9" DSP @ 2 1/4" on both long sides.  Then score @ 5 5/8" from each of the ends.  I also had to add a 1/4" extension to the flap to accommodate the larger cards.  The closure is a velcro dot instead of magnets. But I think I'll do one on each side for the rest of my folded gift card boxes.  Hope my stamping friends like them!
Oh, and did you know that new subscribers to Paper Pumpkin will get a 25% discount for 3 months.  Check it out in the link below and remember to select me as your demonstrator.  Thanks!
Here are some links to help you:
Thanks for stopping by and have a blessed day!
Monday Muse - Flourishing Phrases Card
My newest Carly from LuLaRoe inspired my newest Flourishing Phrases card. Although the greeting says "just a note",  I think it would make a special Mother's Day card. Both of our mom's have passed into heaven, but they both loved flowers and handmade cards. We miss them both so very much.
Lloyd's mom, Vernis, also loved to garden, quilt and paint.  She entered a lot of items in the annual fair in Lewiston, ID, which often received blue ribbons.

My mom, Elaine, loved to make and give cards.  She gave a lot of them to our local Hospice Compassus staff to send to clients.  This picture was taken last August at my sister, Denise's home in Renton, WA.
Oh yes, here's my Carly dress...
And the card in Bermuda Bay...
 The Brights Designer Series Paper Stack as well as all the other Designer Series Papers in our current catalog will be retired the end of May.  Several of them are on the list at a big discount, so check them out at my online store by clicking on Retiring Products and then Everything Else.  Oh, yes, the retiring products are only available "while supplies last", so don't delay!
 Here are some links to help you:
Thanks for stopping by and have a blessed day!
Monday Muse - Serene Scenery Sympathy Card
For obvious reasons, making a birthday card is a lot more fun than making a sympathy card.  One of our former neighbors, a man, passed away this past week, so I decided to create a simple card with one of the papers from the Serene Scenery Designer Series Paper Stack, which will be retired at the end of May.
The Always Artichoke background paper is from the previously retired Adventure Bound Designer Series Paper Stack.  Since I want to make a few more of these cards to have on hand, I embossed 5 1/4" x 4" pieces of Always Artichoke card stock with the Petal Burst Textured Impressions Embossing Folder, which will remain in our new catalog...yay!
The card base is Whisper White, cut 5 1/2" x 8 1/2", scored and folded at the left side.  The leaf photograph Designer Series Paper is cut 3" x 4 1/4", so you can get two pieces from the 6" x 6" piece.
The Flourishing Phrases stamp set has both inside and outside greetings (another yay! to remain in the new catalog), for sympathy, marriage, congratulations, get well, love, etc.  You can also purchase it in the bundle with the Flourish Thinlits Dies to match until May 31. 
Use the Stitched Shapes Framelits to cut the stamped greetings for both outside and inside.  The stitching adds just the right touch for oval, circle and square greetings in several sizes.  You won't find them in the current catalog as they were added mid-year, SO click on the icon at the end of this post to order or type 145372 in the Search box on the online ordering page.
Here are some links to help you:
Thanks for stopping by and have a blessed day!
Friday Find - Thank You Notes
I have been busy sorting and cleaning up previously retired Designer Series Papers.  My mom had a lot of them, too.   So while sorting today, I found several pieces that would make quick and easy thank you notes for my daughter-in-law's LuLaRoe business.  She hand writes a note to each person who buys a piece of clothing or an outfit and slips it in the package for mailing. (If you want to know more, just click on the Contact Me tab and leave me a note.)
 Here's a photo of a few of the 41 cards I made today.  Do you remember any of these pretty papers?
The card base is cut 4 1/4" x 5 1/2".  The Designer Series Papers are cut 4" x 2 3/4".
Every year all our favorite Designer Series Papers are retired BUT we receive more great ones to take their places.  The new catalogs will be shipped in May to us demonstrators and many of our customers.  If you want one in your hands, please let me know.  Otherwise, you will be able to view it online on June 1!!!
I used retired, retiring and Paper Pumpkin stamps for the greetings.  The top one is from Four You (previously retired), middle one from Endless Thanks (just retiring this year) and the bottom greeting is from the Hello Sunshine Paper Pumpkin kit. 
Are you familiar with Paper Pumpkin? Are you a subscriber?   You receive a "surprise" kit in the mail monthly.  Each kit includes directions, stamps and ink spots that are re-usable.  The card bases, envelopes, stickers and embellishments are all included...even glue dots and dimensionals!  You will need to supply scissors and SNAIL or alternate adhesive.  AND Stampin' Up! makes a Youtube video each month to help you get started.  Below are the 4 subscription options (shipping included in the prices).  With your first kit, you receive an acrylic block that will work with the stamps in all subsequent kits.  You will notice from the list below that there is a discount for longer subscriptions. (Continue reading below the list.)
You can cancel at any time after your subscription runs out AND you can skip months.   For instance, if you try the first month and want to cancel, you can do that.  If you don't cancel, each month, you will be billed when the shipment leaves the warehouse...around the 15th of the month.
If you order a 3 month or longer subscription and receive your first month, but are going to be out of town the next month, you just skip that month.  The subscription will start up again the next month.  You can even skip more than one month in a row.  I've done that myself when we were on a long vacation and when I just knew I wouldn't have time to put the cards or projects together.
Where do you sign up?  At mypaperpumpkin.com.  OR, place your order at my online store.  Here are some links to help you:
Thanks for stopping by and have a blessed day!