---
Sometimes the simple recipes like this BBQ Chicken Grilled Cheese Sandwich make the best recipes.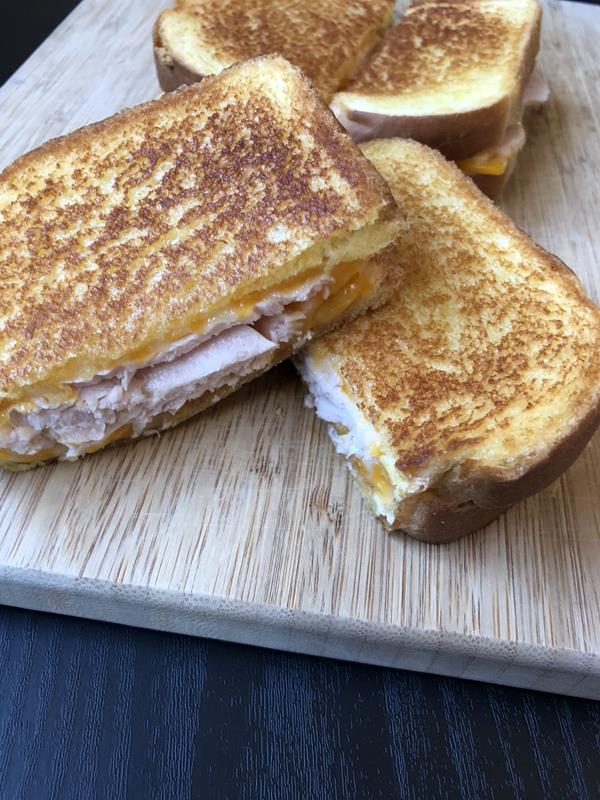 Do you have one night a week that you take off from cooking? Or at least from cooking a regular dinner? If you don't, I highly recommend it. We all need a day off of cooking once in awhile.
For me it is usually Sunday night. I rarely cook much for dinner unless we have company. I keep it easy.
We eat leftovers or everyone just finds whatever they want for dinner. If I don't have many leftovers, or my kids don't want to fend for themselves, I make something simple like grilled cheese sandwiches.
Last Sunday I realized that I had some sliced chicken that needed to be used up. I didn't have enough for everyone and I didn't have a lot on hand to go with it.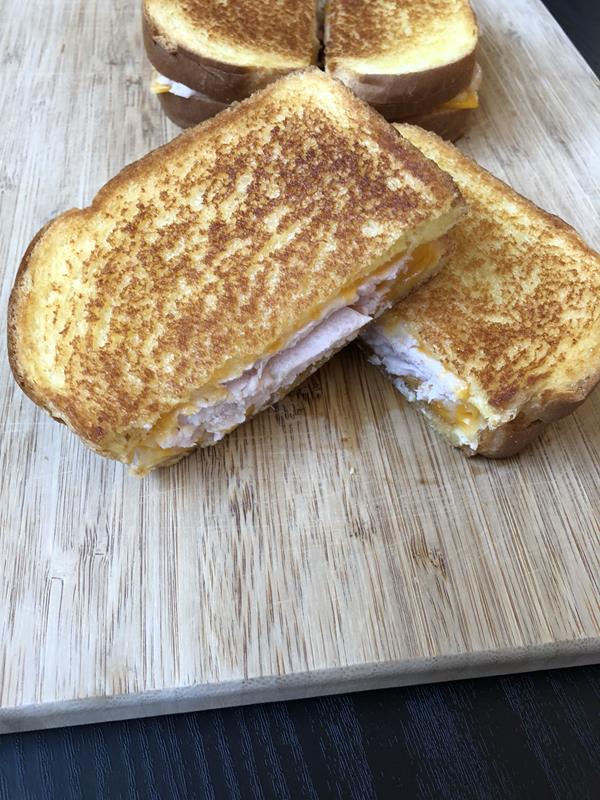 I looked in the fridge and saw some sliced cheese and some bbq sauce. I decided that sandwiches would be perfect for using up that last bit of chicken and would help it stretch to feed everyone.
My family is not a fan of cold sandwiches. It isn't really that they don't like them, but they eat them often for lunch, so they don't love them for dinner.
However, if I heat the sandwich up and turn it into a grilled cheese type of sandwich they usually love it.
That is exactly what I did on Sunday. I took my idea of a bbq chicken and cheese sandwich and turned it into a grilled bbq chicken and cheese sandwich.
I had just plain cooked and sliced chicken and spread bbq sauce on the bread, but you could easily use leftover bbq chicken or pork for this. Slow cooked bbq chicken or my Instant Pot bbq chicken would be perfect for this sandwich.
The reality is that this sandwich is so simple that it is not really a recipe. It is more of an idea for a sandwich combination that you might not have tried.
I know you love simple recipes. I also know that you love tips for making life in the kitchen easier. Meals like this are how I keep cooking and feeding my family easy and delicious.
Food does not have to be fancy or complicated to be delicious! Sometimes you just have to take a basic sandwich and cook it to make it a little more special.
Need to make grilled cheese sandwiches for a crowd? Make my oven grilled cheese. It makes cooking grilled cheese for a large group, a bunch of teens, or a large family easy.
Ingredients
4 slices bread
1 cup cooked chicken, sliced
4 slices cheddar or desired cheese
2 tablespoons bbq sauce ( more if desired)
1 1/2 tablespoons butter, softened
Instructions
Heat skillet or pan over medium heat.
Butter one side of each piece of bread.
Place two pieces of bread in the skillet or pan. Buttered side down.
Spread bbq evenly over each piece of bread.
Place one slice of cheese on top of bbq sauce.
Place chicken on top of cheese.
Place remaining cheese on top of chicken.
Put remaining bread on top. Buttered side out.
Cook for 3-4 minutes per side or until gold brown and cheese has melted.
Notes
To make this gluten free use gluten free bread and make sure your bbq sauce is gluten free.
This sandwich is also really good with sliced turkey.
Nutrition Information:
Yield:
2
Serving Size:
1
Amount Per Serving:
Calories:

703
Total Fat:

43g
Saturated Fat:

22g
Trans Fat:

1g
Unsaturated Fat:

17g
Cholesterol:

156mg
Sodium:

1056mg
Carbohydrates:

40g
Fiber:

2g
Sugar:

10g
Protein:

38g
The post BBQ Chicken Grilled Cheese Sandwich appeared first on Lynn's Kitchen Adventures.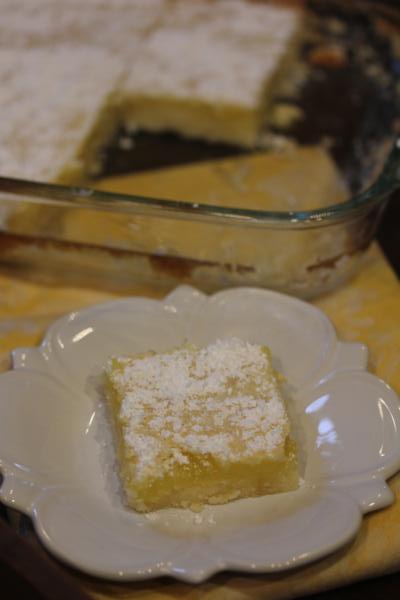 Tomorrow is Easter and that means that you may have some leftover ham that needs to be used up. Instead of serving just leftover ham, get creative with the leftovers. This week's menu plan includes two easy meals that you can use the leftover ham in.
I am also sharing a favorite holiday breakfast and one of my favorite desserts for this time of year.
Here is this week's menu plan.
The post Menu Plan appeared first on Lynn's Kitchen Adventures.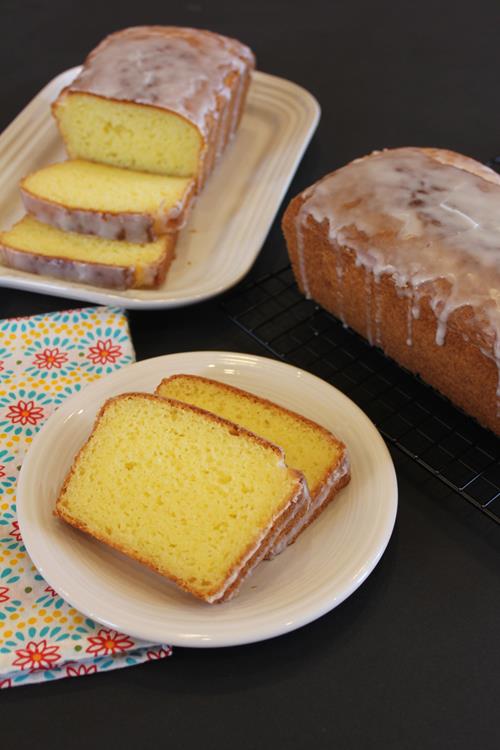 Tomorrow is Easter and I know a lot of people are planning special meals. I kept the gluten free menu plan pretty simple this week. It includes my favorite gluten free rolls and a favorite gluten free dessert. Both are perfect for Easter or any day.
Here is this week's gluten free menu plan. I made notes next to the ingredients that need to be gluten free, but as always be sure to read labels to make sure the ingredients are safe for your family.
The post Gluten Free Menu Plan April appeared first on Lynn's Kitchen Adventures.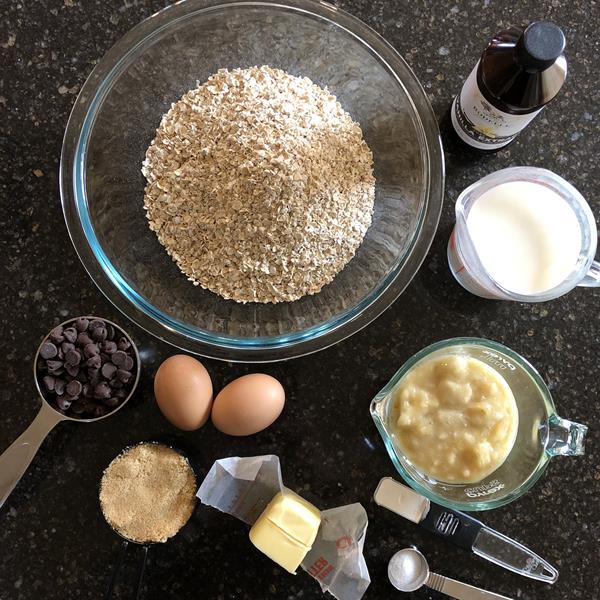 I am changing up my Everyday Adventures posts and will now be sharing them as Everyday Favorites.
I have done Everyday Adventures posts on and off for years. It has been a fun way to share a little bit of my life outside of the kitchen. I recently decided that I wanted to change the focus of my everyday adventures posts and instead of just focusing on what I was doing, I want to start sharing more things that were helpful to you.
I want to share things that I have found helpful, recipes that I find that I want to try, and products that I am loving, along with things that I am doing in everyday life.
A few times a month I will share an Everyday Favorites post. Which will be all kinds of things that I am loving, using, tips and articles I have found helpful, things I am cooking, reading, and more. I hope that you will find these posts helpful and fun.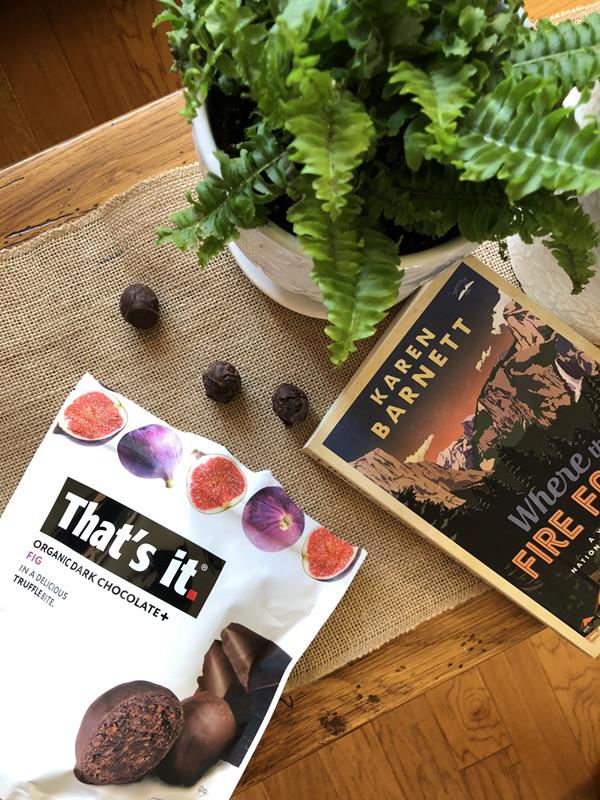 Have you seen the That's It dark chocolate Truffles? I got some at Costco, but Amazon and other places sell them too. They are so good!
I keep meaning to do a whole post on the new electric griddle that I got, but a link will have to do for now. This is the one I got and I love it! I bought it one after my sister recommended it and told me who much she loved it. It is a great griddle for a good price. One of the reasons that I love it is that it is huge. I can make eight to ten pancakes at a time on it. We make pancakes at least once a week at our house. We also make a lot of quesadillas and grilled cheese. That means our electric griddle gets a ton of use. The one I bought a few years ago didn't last as long as I hoped and I really needed a new one. Hopefully this one holds up better than the last one.
I have been updating a lot of my older recipes and photos. I started this website back in February of 2008. That makes me old in the online world. It also means that it is a never ending project to update old recipes. But it also mean I am finding lots of recipes that I forgot about. I will be updating and sharing those long lost recipes over the next few months.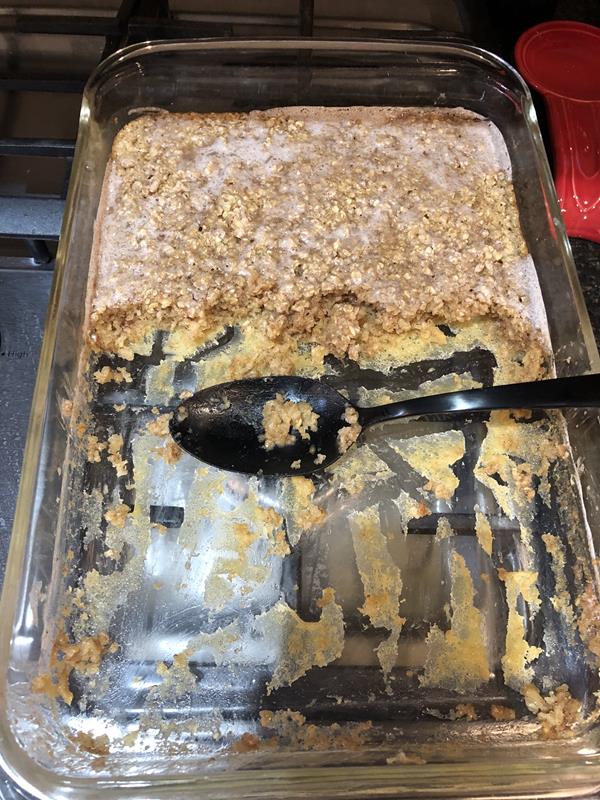 My daughter made two pans of baked oatmeal for breakfast recently. It is so nice to have kids that love cooking. She made cinnamon roll baked oatmeal and raspberry baked oatmeal. Both are favorites at our house.
I love it when my love of cooking and reading come together. If you remember Gourmet magazine, especially the way Gourmet Magazine was in the 1990's and early 2000's, I think you will love the Ruth Reichl's new book Save Me the Plums. I finished it just yesterday and loved it. I read it in two days. Once I started it I could not put it down. She covers how she helped change and modernize Gourmet from the magazine it was in the 1970's and 1980's to a more modern focus. She also talks a lot about the magazine and food culture of New York City. And she talks about how the new digital and online world changed and ultimately shut down Gourmet. If you love food and the behind the scenes information I think you will enjoy Save Me the Plums.
I have been a little quieter here and on social media. The reason is that I had diverticulitis again…It was about this same time last year that I also had it. Diverticulitis is not fun and I am hoping we can figure out what I am eating that is causing it. This time it happened the same week that my son had knee surgery. So that made for a fun week…A six foot six inch teenage boy on crutches and in a knee brace has been lots of fun too…
I took lunch to my husband's office this week. I kept it pretty simple. I bought precooked sliced brisket from Sam's Club. If you have never tried their brisket you should try it. It is really good. I bought sliced cheese and two different kinds of bread along with the rest of the stuff needed to make sandwiches. I also got two different bags of salad mix and some chips. The only thing I made homemade this time was the cookie bars. I will share the cookie bar recipe soon.

I didn't have a lot of time this week to make something so this was a pretty simple lunch to put together. It was also cheaper and healthier than eating out or having food brought in.

These chicken salad lettuce wraps look so good!
I am working on finding a really good dairy free biscuit for my daughter. I am thinking about trying this one for coconut oil biscuits or maybe this three ingredient biscuit recipe, but making it gluten free. Dairy and gluten are a what help make biscuits light and fluffy so this should be a fun challenge…If you are dairy free and have a good dairy free biscuit recipe I would love to hear about it.
I hope you have a great weekend and a happy Easter!
The post Everyday Favorites appeared first on Lynn's Kitchen Adventures.
Need an easy dessert recipe that uses everyday ingredients? Try applesauce cake! It is an old fashioned cake recipe that is just as delicious today as it was when our grandmothers made it.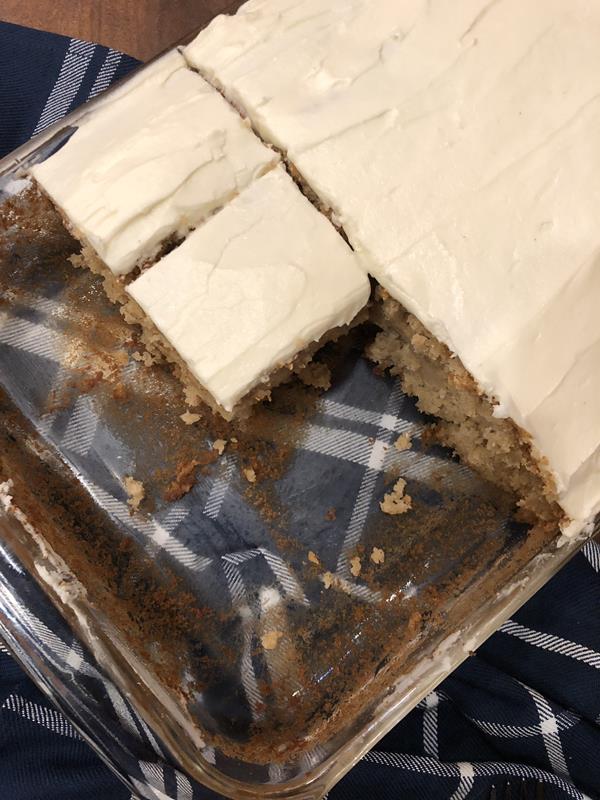 One of my favorite things to do is to look through old cookbooks. Some of the recipes like Jello salads and casseroles with crazy ingredients are fun to read about.
You really have to wonder how many people actually made and ate some of the recipes. Many of the recipe though are basic recipes that call for inexpensive ingredients. Those are the recipes that I love the most.
Many of the older recipes are basic recipes with ingredients that people almost always have on hand. We can learn a lot from previous generations of cooks.
I can do without all the strange Jello recipes, but I think we can all use more easy recipes that use simple ingredients. They knew how to cook with what the had on hand and what they could afford.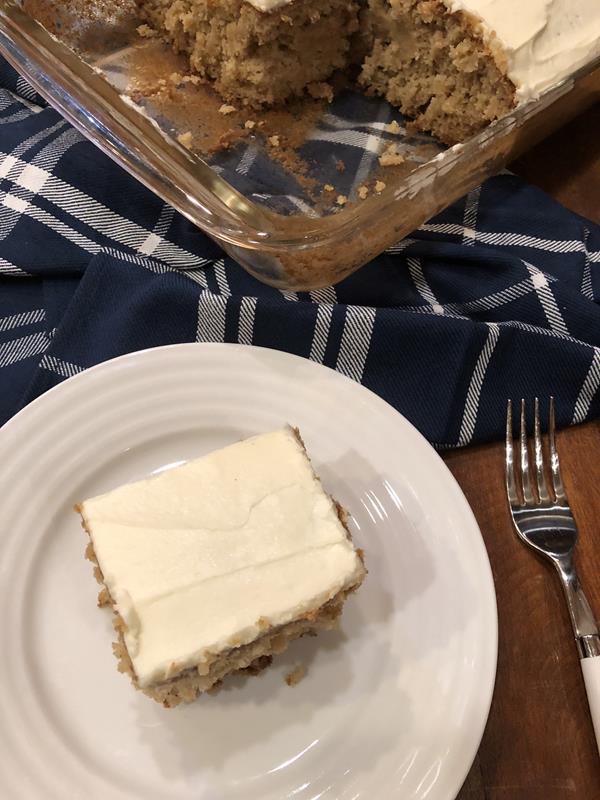 This recipe for applesauce is an example of that. Applesauce cake is a dessert that many of our mothers and grandmothers used to make.
Applesauce cake calls for ingredients you always have on hand like sugar, oil, flour, applesauce, and eggs. Those are things most of us keep in kitchen all the time. Applesauce cake is a recipe that you can make without going to the store for special ingredients.
A lot of people have forgotten about applesauce cake because it is such a simple cake. It is not fancy, but it is so good. I think we need to start bringing back some of the older basic desserts and recipes like this one.
I love to frost my applesauce cake with either a basic butter frosting or a cream cheese frosting. Frosting makes applesauce cake even better, but you don't have to frost it. It is delicious on it's own.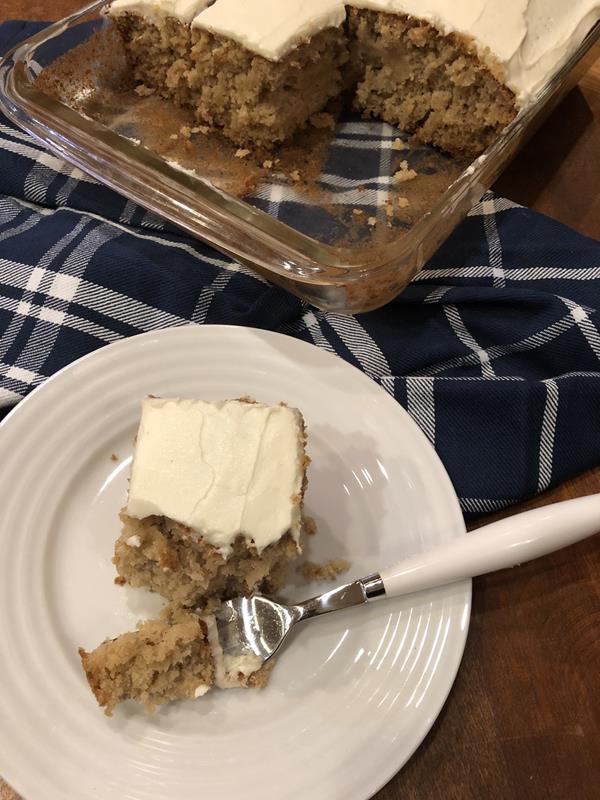 Can I make applesauce cake gluten free?
Yes, I make this gluten free all the time. The easiest way to make it gluten free is to use Bob's Red Mill 1 to 1 gluten free baking flour.
Can I make a dairy free applesauce cake?
The cake recipe is easy to make dairy free. The recipe uses oil, not butter, so that part is easy. For the milk use a diary free milk like coconut milk. For the frosting you can either leave it off or use a dairy free frosting.
Need more simple old fashioned recipes?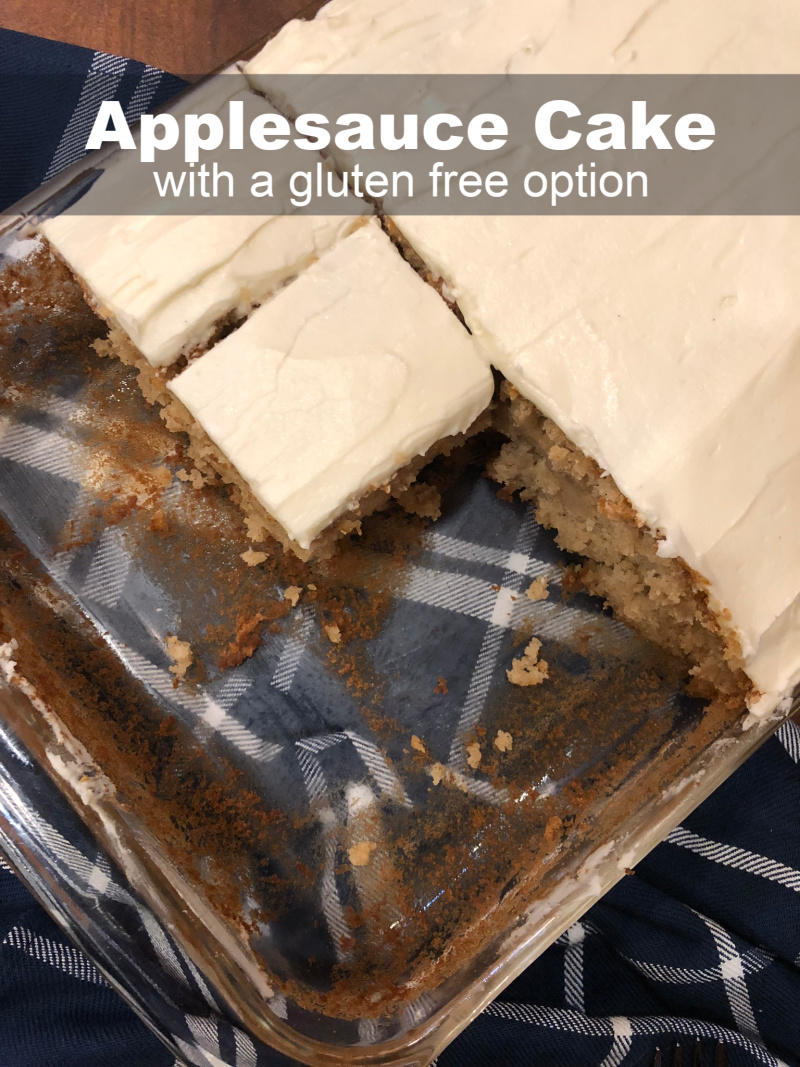 Ingredients
Cake Recipe
2 1/2 cups applesauce, unsweetened
2 cups white sugar
1 cup vegetable oil
4 eggs
6 tablespoons milk
4 cups all purpose flour ( use Bob's Red Mill 1 to 1 Gluten Free Flour blend for a gluten free version)
2 teaspoons baking soda
1 teaspoon baking powder
1 teaspoon ground cinnamon
1/2 teaspoon salt
Frosting Recipe
1/3 cup butter, softened
3 cups powdered sugar
2 teaspoons vanilla
2-3 tablespoons milk
Instructions
Preheat oven to 350 degrees. Lightly grease a 9x13 pan.
In a large bowl, combine the applesauce, sugar, oil, eggs and milk mix until well combined.
Stir in the flour, baking soda, baking powder, cinnamon, and salt. Stir until smooth.
Pour batter into prepared cake pan.
Bake in preheated oven for 40-45 minutes, or until a toothpick inserted into center of the cake comes out clean.
Let cake cool completely.
While cake is cooling make frosting.
To make frosting place butter and 1 1/2 cups powdered sugar in a mixing bowl. Mix until well combined and smooth. Slowly add remaining powdered sugar. Add vanilla and 2 tablespoons milk. Mix until smooth. Add a little more milk if needed for desired consistency for spreading on cake.
Frost the cake once it is completely cooled.
Cut into pieces and enjoy!
Notes
This recipe can be cut in half and baked in an 8x8 pan. Reduce cooking time to 35-38 minutes. It can also be baked in two round pans and made into a layer cake.
This cake can also be made dairy free by using a dairy free milk like coconut milk in place of the milk in the cake batter and by leaving off the frosting or by using a diary free frosting.
If you use sweetened applesauce you might want to decrease the amount of sugar.
The post Applesauce Cake appeared first on Lynn's Kitchen Adventures.