---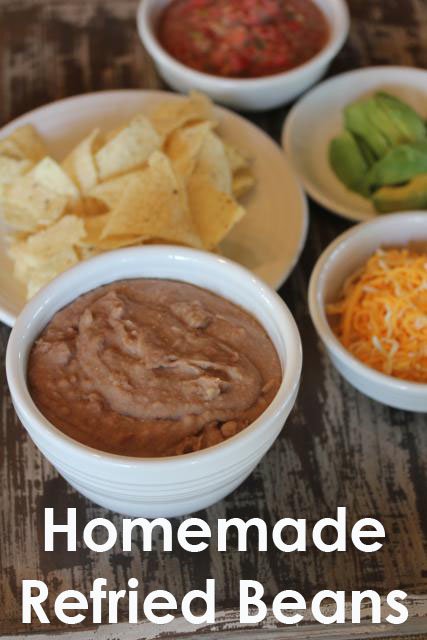 I am keeping the gluten free menu plan simple this week. It is still hot in most parts of the country and everyone is busy. We all need quick and easy gluten free meals.
Several of the recipes on the plan this week, like the pancake muffins and the baked oatmeal freeze great. So make extra and stock your freezer for busy back to school meals.
Here is the plan. I made notes next to what needs to be gluten free, but as always make sure to read labels so that everything is safe for your family.
Breakfast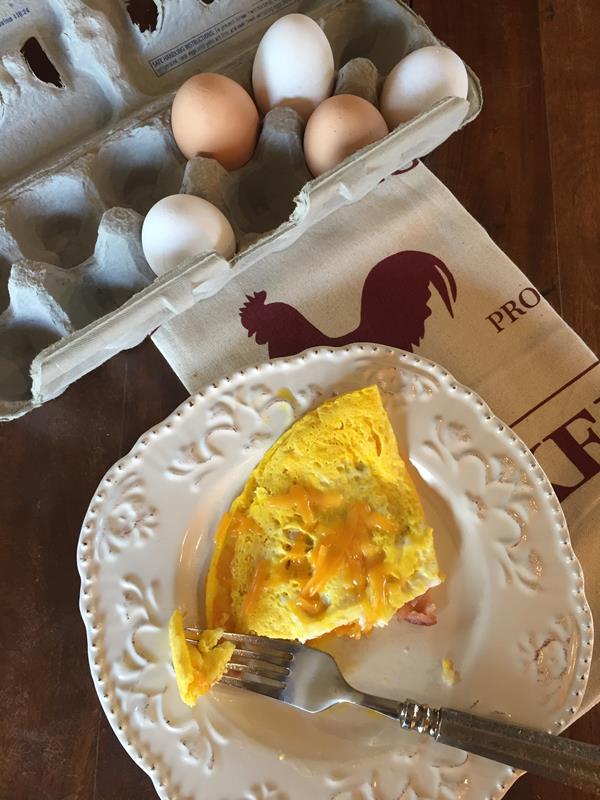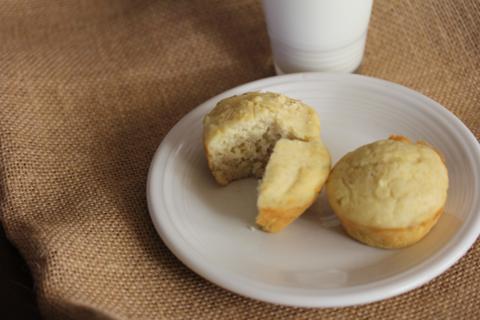 Gluten Free Banana Pancake Muffins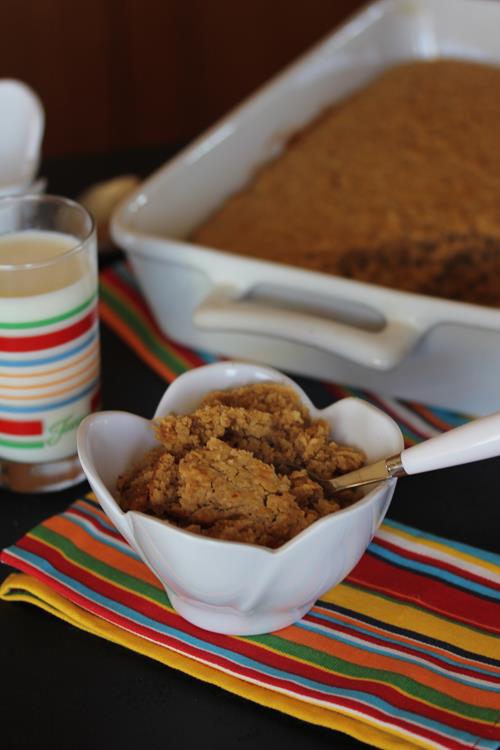 Peanut Butter Baked Oatmeal– Use gluten free oatmeal
Dinner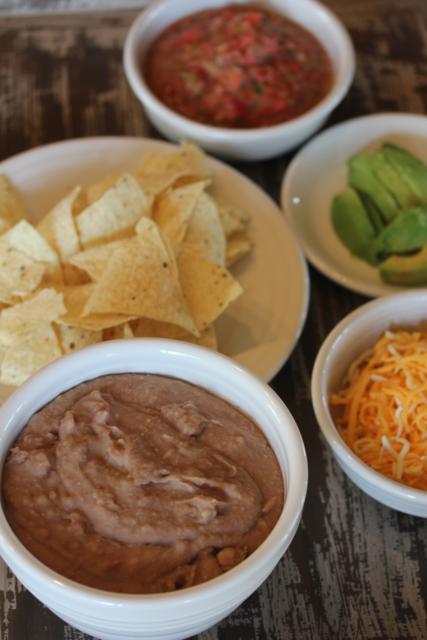 Homemade Refried Beans and Quesadillas- use corn tortillas
Fold Over Cheese Enchiladas– use corn tortilla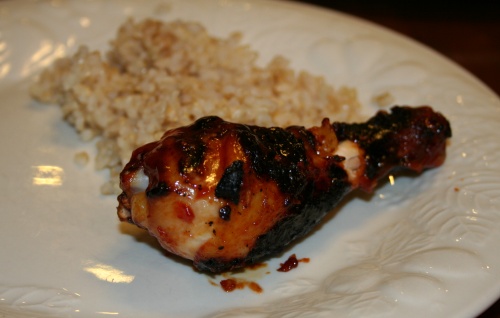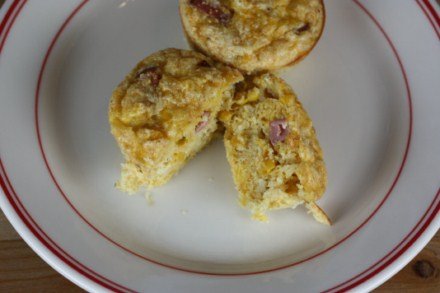 Corn Dog Muffins– These are perfect to make in a large batch for freezing- use gluten free cornmeal and gluten free hot dogs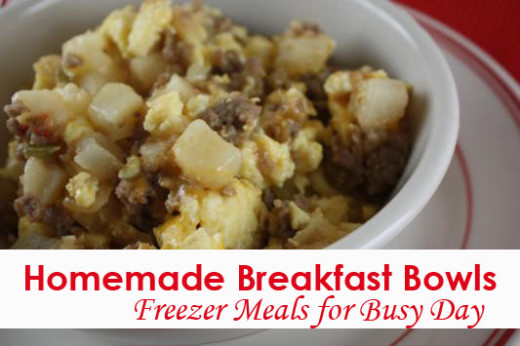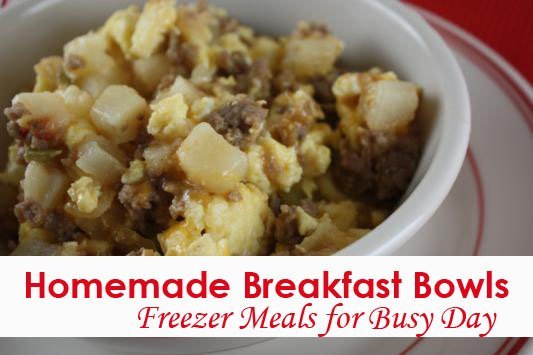 Breakfast for Dinner- Breakfast Bowls– Use gluten free sausage and potatoes and make extra to freeze for busy mornings
Hamburgers and Baked Beans 
Gluten Free Dessert of the Week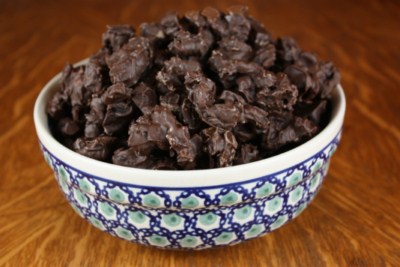 Homemade Chocolate Covered Craisins 
The post Gluten Free Menu Plan appeared first on Lynn's Kitchen Adventures.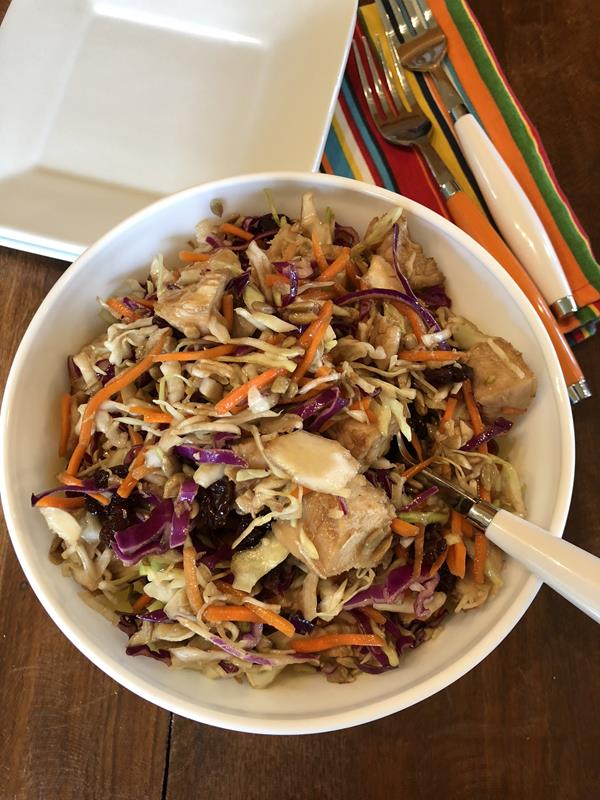 Asian Chicken Cabbage Salad is one of those recipes that I had a terrible time naming. I almost called it Asian coleslaw, but that didn't seem quite right.
I thought about calling it Asian chicken salad because it is salad like, but it isn't a typical chicken salad like my Italian Chicken Salad recipe.
Since it contained chicken and cabbage and had an Asian flavored dressing on it I went with Asian Chicken Cabbage Salad.
Cabbage is one of those vegetables that I think often gets neglected. Most people think of it for coleslaw, but nothing else. This salad is an example of how cabbage can be used in so many different ways.
Asian food can be a bit challenging for our family. Some of us eat gluten free and not all Asian food can be made gluten free. My oldest daughter also has a peanut, tree nut, sesame allergy, which means pretty much all Asian food is a no go for her.
So we eat our Asian type of food at home instead of at restaurants. Which is fine. It helps keep it safe for my family and homemade is usually cheaper and healthier than what a restaurant would serve.
This Asian Chicken Cabbage Salad is a copycat type of recipe of Asian salads that I have had. I found a few recipes online and adapted them for our tastes and needs.
Most of the online recipes for a salad like this contain a lot of dressing. I like salad dressing, but one of the recipes I tried called for 1 cup of oil and it ended up being a soggy mess.
After some tweaking and adjusting I ended up with a version that we love. The leftovers of this salad make a great lunch!
My version fits our food needs. I use sunflower seeds in it, but you could easily use chopped nuts instead. Most Asian salads like this also call for a little sesame oil.
Since we can't have sesame I don't add that to mine, but I think it would be delicious. If you can have sesame and have some sesame oil try a little bit of it added to this dressing. It would be delicious!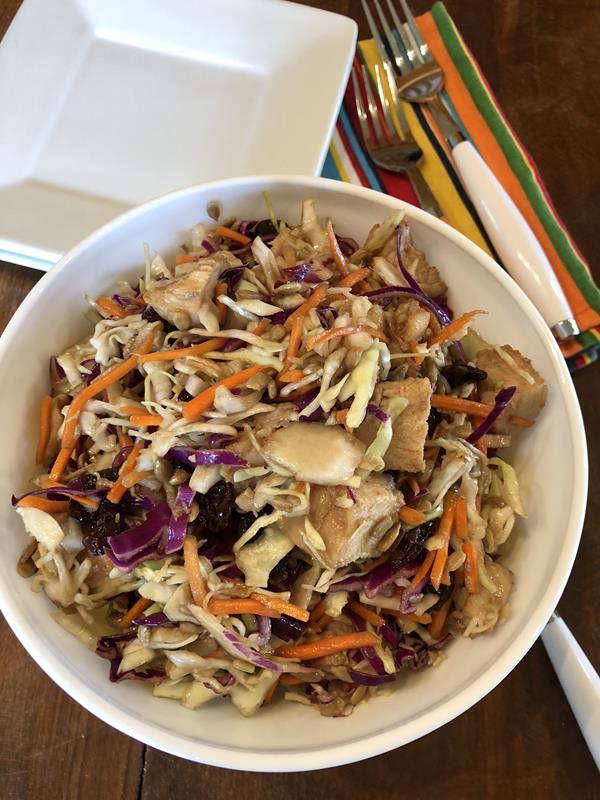 Asian Chicken Cabbage Salad
Asian Chicken Cabbage Salad is a quick and easy lunch or dinner.
2 1 lb bags coleslaw mix
4 cups chopped cooked chicken
1/2 cup sunflower seeds
1 1/2 cups dried cranberries ( Craisins)
1/2 cup olive oil
1/4 cup balsamic vinegar
2 tablespoons soy sauce ( I use gluten free soy sauce)
2 cloves garlic chopped
2 tablespoons honey
1/2 teaspoons ground ginger
In a large bowl mix together cabbage, chicken, sunflower seeds, and dried cranberries. Set aside.

In a small bowl whisk together olive oil, balsamic vinegar, soy sauce, garlic, and ginger.

Pour dressing over salad and stir to combined. Eat immediately or refrigerate until ready to serve.
The post Asian Chicken Cabbage Salad appeared first on Lynn's Kitchen Adventures.
Sausage tacos are a fun and delicious way to change up taco night!
Tacos are one of our favorite meals. I love to serve them to my family, but they also work great when we have friends and family over to eat.
We eat them at least once a week, sometimes twice a week. I love that I can easily change them up so that they are not the same basic tacos every time.
I also love that tacos fit a variety of diets. If you don't have dietary restrictions you can eat them as is on regular flour tortillas. If you are gluten free you can eat them on corn or gluten free tortillas.
If you are dairy free you can leave off the cheese and sour cream. Low carb diets can just eat everything piled on a plate like a taco salad.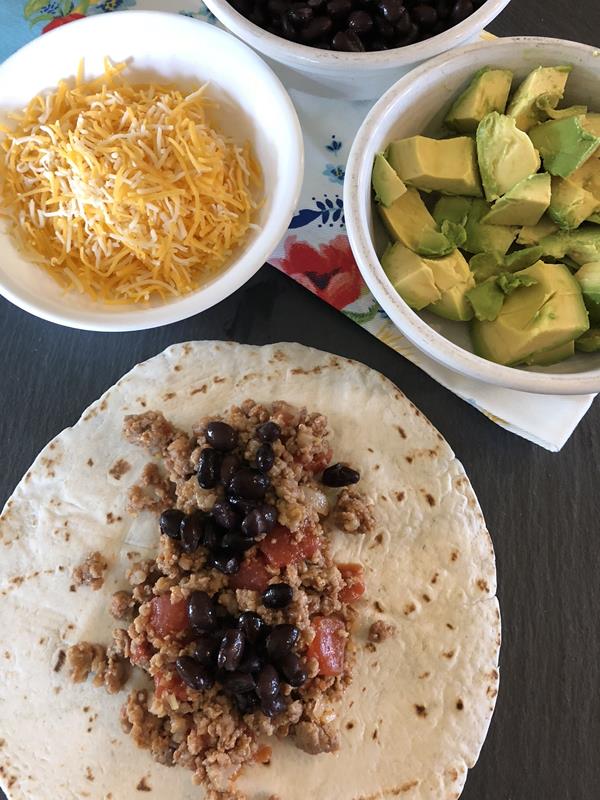 Sausage tacos are pretty much your basic tacos served with sausage as the meat. However they don't have eggs so they are a little different than your normal sausage breakfast taco.
I add a can of diced tomatoes to these tacos to change it up, but you could easily add salsa instead for a little different flavor.
Our favorite taco toppings are cheese, beans, sour cream, avocado, lettuce, and salsa. You can serve them with whatever toppings that you enjoy.
Mexican rice is a simple side dish perfect for sausage tacos or any taco night.
If you are looking for a way to change up taco night this week give sausage tacos a try!
If you like tacos you might also enjoy these recipes!
Sausage Tacos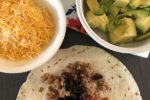 Sausage tacos are a fun way to change up your basic tacos.
2 pounds ground breakfast sausage
1 onion, diced
1 14.5 ounce can diced tomatoes
1 package taco seasoning
tortillas, corn, flour, or gluten free
sour cream, lettuce, salsa, black beans, etc for serving
In a skillet or pan cook sausage and onion until onion is tender and meat is no longer pink.

Drain off any fat.

Add tomatoes and taco seasoning to meat mixture. Cook over medium heat for 6-8 minutes or until most of the liquid is gone.

Serve on tortillas with desired toppings.
The post Sausage Tacos appeared first on Lynn's Kitchen Adventures.
Raspberry baked oatmeal is a great way to serve your family a fun healthy breakfast during the summer, but we also love it all year long.
Raspberries are one of my favorite fruits, especially fresh raspberries during the summer. I grew up in Oregon where berries grow like crazy. I am pretty sure that the western part of Oregon has about the perfect climate for growing all kinds of berries.
Strawberries, raspberries, blackberries, blueberries, marionberries, and boysenberries are all berries that I grew up eating. We spent time each summer picking and freezing berries and making all kinds of jams, cobblers, and desserts.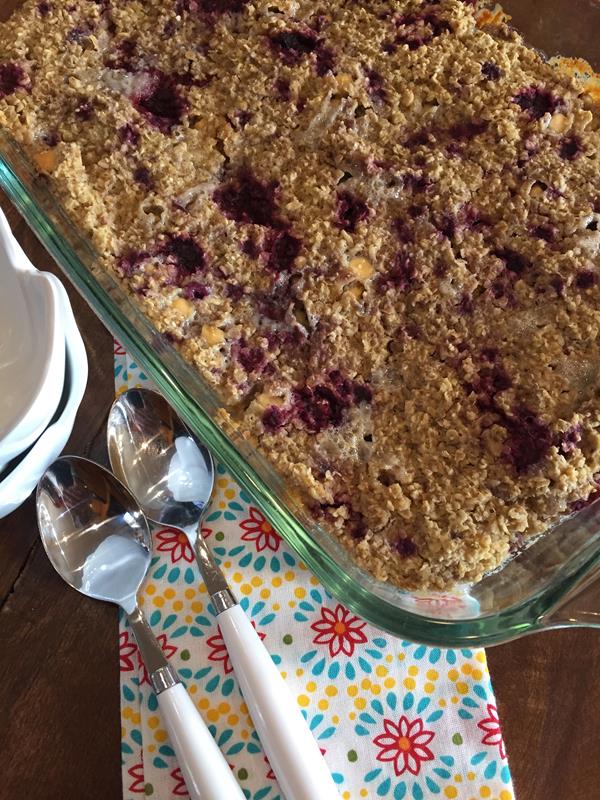 My love of berries has been around for years. Berries are a little harder to grow where I live now. Oklahoma is not exactly known for growing berries. But I love to buy them at the Farmer's Market and grocery stores when I can this time of year. There are not quite as good as fresh from the vine Oregon berries, but they are still good.
Frozen berries also work well in many things. Cobblers, baked oatmeal and smoothies are all delicious ways to use frozen berries.
I have been making baked oatmeal with raspberries for years. I have quite a few baked oatmeal recipes that I have shared over the years, but I have never shared the raspberry version. Today I am fixing that because it is one of my favorites.
If you have never tried baked oatmeal you need to. Baked oatmeal has converted many oatmeal haters into oatmeal lovers. It is a great breakfast to serve your family. It can be made ahead of time and reheated for easy breakfasts during the week and it also freezes well.
This is one of those recipes that I will use my oven for during the summer. I usually make two or three pans at once so that I only have to heat up the oven one time.
For a special treat we add white chocolate to this recipe to make a raspberry white chocolate baked oatmeal. It is less healthy, but tastes even better.
Need more baked oatmeal ideas, recipes and tips? Be sure to check out all my baked oatmeal recipes.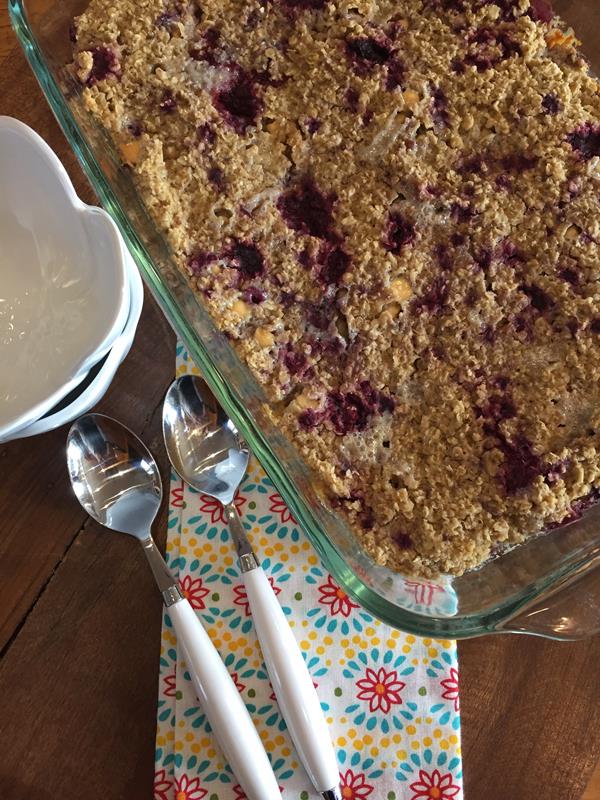 Raspberry Baked Oatmeal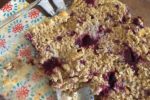 Baked oatmeal is a quick and easy breakfast that your family is sure to love!
3 cups quick cooking oats- I use gluten free quick oats
1/2 cup brown sugar
1 1/2 cups milk
2 tablespoons butter (melted)
2 eggs
2 teaspoons baking powder
3/4 teaspoon salt
2 teaspoons vanilla
2 cups fresh or frozen raspberries
Preheat oven to 350.
In a bowl mix together all ingredients, except berries and combine well.
Carefully stir in the berries.
Spread into a greased 9×13 pan and bake for 20-25 minutes or until done. You want it set up, but not really dry.
Serve warm drizzled with additional milk or cream if desired.
White Chocolate Raspberry Baked Oatmeal
Stir in 1 cup white chocolate chips for raspberry white chocolate baked oatmeal.
The post Raspberry Baked Oatmeal appeared first on Lynn's Kitchen Adventures.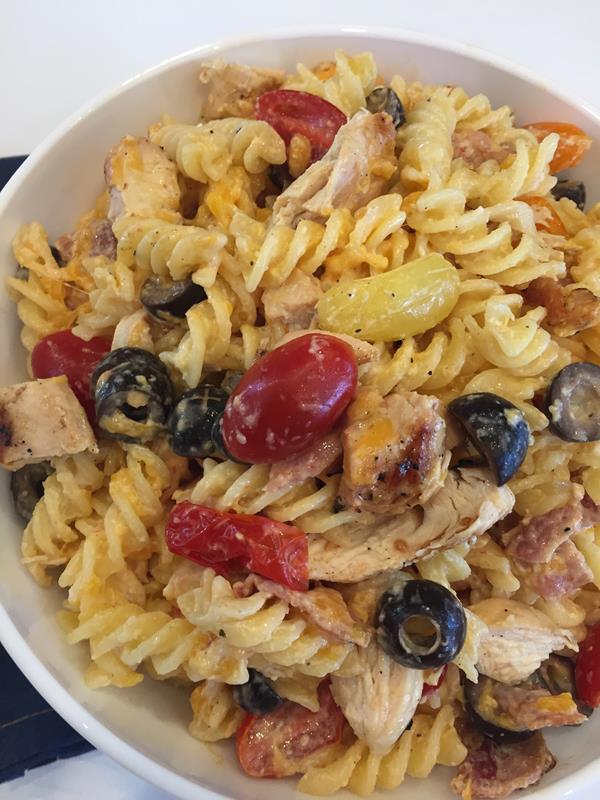 Chicken Bacon Ranch Pasta Salad is the perfect summer meal!
I love ranch dressing. Love it! It is my favorite salad dressing. I will eat other salad dressings, but ranch is the one I almost always choose.
I was recently at a restaurant on vacation and because of some health issues I was limited to what I could eat. I ordered a salad and asked for ranch dressing. When the waitress brought the food, she said they were out of ranch dressing and gave me two other choices. I might have looked at her like she was crazy. No ranch?!
Yes, I know it was not her fault that they were out of ranch dressing, but I was in the mood for ranch. Oil and vinegar on a salad is just not the same. I took it, but I did not enjoy it nearly as much as I would have with ranch dressing. I really do love ranch dressing.
I know not everyone shares my love of ranch, but in my opinion it is the best. And I will totally admit that I am picky on the brand of ranch dressing that I like too. If I am buying it, I buy the name brand stuff. Off brand ranch dressing is just not the same. Just saying.
Those that know my love of ranch dressing, and my love of pasta, will not be surprised that I combined the two into a delicious pasta salad. Add some bacon and vegetables to the pasta salad and you pretty much have the perfect summer meal.
Pasta salad is a great summer meal because it can be made ahead of time and it doesn't heat up the house to make. It is also great leftover for lunch or dinner the next day.
If you love pasta salad and ranch dressing as much as I do than this recipe is a must make!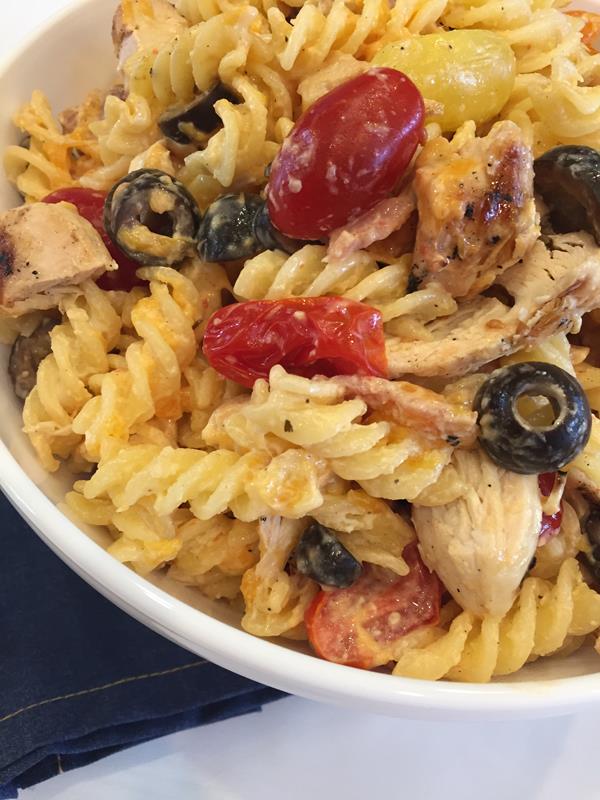 Chicken Bacon Ranch Pasta Salad
Chicken Bacon Ranch Pasta Salad is a simple and delicious summer meal.
12 ounces macaroni, fusilli, or other shaped pasta ((I use gluten free pasta))
1 cup ranch dressing
2 cups cooked chicken, cut into chunks or shredded
2 cups cherry or grape tomatoes, cut in half
8 slices bacon, cooked and cut into pieces
1 cup sliced olives (add more or less depending on desired amount )
1 cup shredded cheddar cheese
1/3 cup grated Parmesan cheese
Cook pasta according to directions. Drain and place pasta in a large bowl.

Add ranch dressing and stir to coat pasta well.

Add remaining ingredients and stir just until well combined.

Serve immediately or refrigerate until ready to serve.
The post Chicken Bacon Ranch Pasta Salad appeared first on Lynn's Kitchen Adventures.